A new section of the Memorial Hall of the Victims in Nanjing Massacre will open on Monday, displaying more works themed on that part of the history.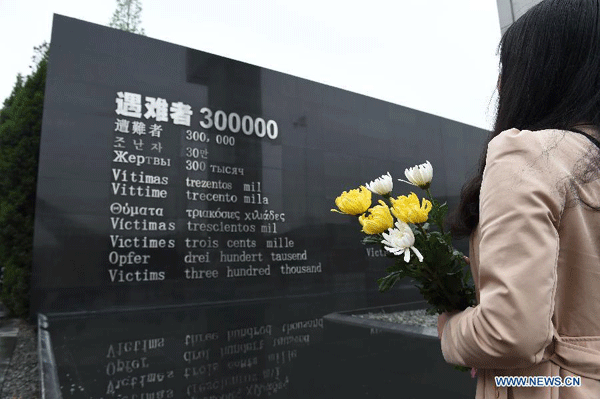 A resident mourn the Nanjing Massacre victims at the Memorial Hall of the Victims in Nanjing Massacre by Japanese Invaders on the Qingming Festival in Nanjing, capital of east China's Jiangsu Province, April 5, 2015. [Photo: Xinhua]
The works, all donated by artists, include calligraphy of China's national anthem, which was composed during the counter-Japanese aggression war, an oil painting made by a French painter, and several music pieces.
Zhang Jianjun, curator of the memorial hall, said the oil painting was prsented to the museum by French painter Christian Poirot, who created the huge piece after visiting the museum.
From December 13, 1937 to January of 1938, the Nanjing Massacre saw the deaths of 300,000 Chinese civilians and unarmed soldiers after the city fell into the hands of the Japanese.
The memorial hall for the victims was built in 1985, and was expanded and renovated in 1995.