Tian Xiaolu will lay for hours at a time atop the only bed in her home, concentrating hard as she struggles to type on a tablet computer using just the tip of her nose.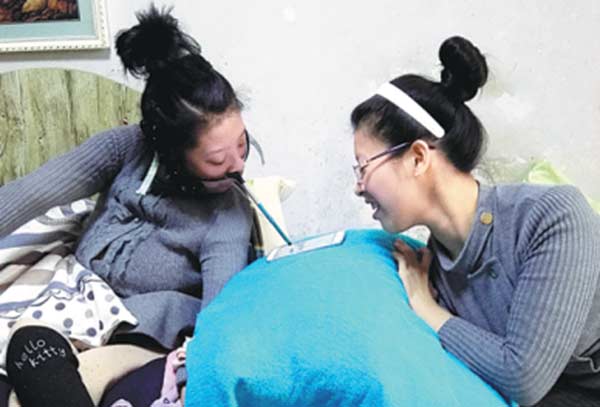 Typing on a tablet computer is hard work for Tian Xiaolu. [Photo/China Daily] 
The 25-year-old is communicating with customers as part of one of the WeChat businesses she runs with her twin sister, Tian Lulu.
Both sisters have cerebral palsy, a debilitating disorder that severely restricts their movement and ability to speak. They were born in 1991 in Dandong, Liaoning province, to parents who cannot hear or speak, making eldest sister Tian Lulu the only one in the family who is able to communicate verbally.
"Although we are disabled, we don't want to be useless. We want to make a living by ourselves," she said.
For many years, the family were reliant on the father's meager salary to put food on the table. As they were growing up, the children learned sign language with their mother. Eventually, Tian Lulu, who only has the use of two of her fingers, knew enough to teach herself Chinese characters.
Then, several years ago, the family was given a computer that Xiaolu used to find a part-time typing job online.
"Although the salary was only 200 yuan ($29) per month, I was really excited about it because I was earning the money by myself," she said.
The happiness was short-lived, however, as her father died of stomach cancer last December. "It was like the sky had fallen down," said Xiaolu, adding that the reality of the situation allowed no room for sadness to sink in.
The family had no income, so she decided to shoulder the responsibility and began selling dried fruit and snacks on her WeChat account in January 2016. It went smoothly at first, because it was Spring Festival and people across China were stocking up for the holiday season.
She earned 50 yuan in the first two days, but her business collapsed after the festival and there were no more orders for months.
However, with the help of local volunteers, Xiaolu changed her business strategy and began to sell sanitary pads, which fetch a higher price than produce.
Due to the difficulties she has typing, her business is still lackluster, yet she persists in her endeavor.
"I have more friends on WeChat now. I have gained much love from them. They always support me and give me a hand. I cannot give up," she said.
The younger sister, Tian Lulu, also wants to contribute, but as she is unable to speak clearly, she practices typing with her nose every day so that she can run another online business selling soap.
She only works for two hours a day, because her elder sister is worried that any longer might tire her out.
Yet despite all their difficulties, the family adamantly refuses handouts.
"It's not easy to earn money for everyone. We have the minimum living allowance. The local government helps us a lot, so please don't donate." Lulu said.