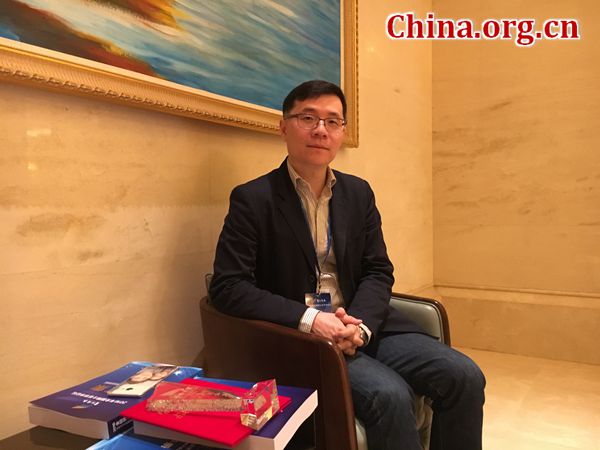 Zhou Jiaxian, deanof the International Tourism and Management School of Macao City University. [Photo by Chen Boyuan/China.org.cn] 
Hengqin has developed rapidly in recent years, especially in the tourism sector due to Henqin's world-class marine theme park. However, local growth should not be limited to the tourism industry, said Zhou Jiaxian, dean of the International Tourism and Management School of Macao City University, in an exclusive interview with China.org.cn on Dec. 10.
"The coming five years will be a golden opportunity for Hengqin, especially in financial services," said Zhou.
A thesis by Zhou and his team has won the third-prize contesting for the 'excellent paper,' at the national postdoctoral forum in Hengqin, which has just concluded. The paper he introduced covers the topics of "e-commerce," "Internet plus" and the "New Type of Smart City of Zhuhai."
In Zhou's view, Zhuhai has five advantages for constructing an e-commerce demonstration base. First of all, its location adjacent to Hong Kong and Macao. Secondly, Zhuhai's well-developed equipment manufacturing, bio-medicine and other industries. Third, the completion of the Hong Kong-Zhuhai-Macao Bridge will bring greater openness and convenience to Zhuhai. In addition, the huge development dividends offered by the free trade test area of Hengqin, provide a good base for the advance of e-commerce in the following aspects: warehousing, trade from the port, logistics, manufacturing, finance and others. What's more, thehi-tech zones and Hengqin enjoy favorable policies.
Zhuhai now has a total of 10 colleges and universities, including the Hengqin School area of the University of Macao. In order to promote the integration of production, education, research and application, Zhou believes that the people should encourage institutions of higher learning and scientific research to integrate the research of e-commerce theory and application.
"Though Hengqin has good policies, it lacks talents," Zhou said. These universities may serve as think tank for local development.