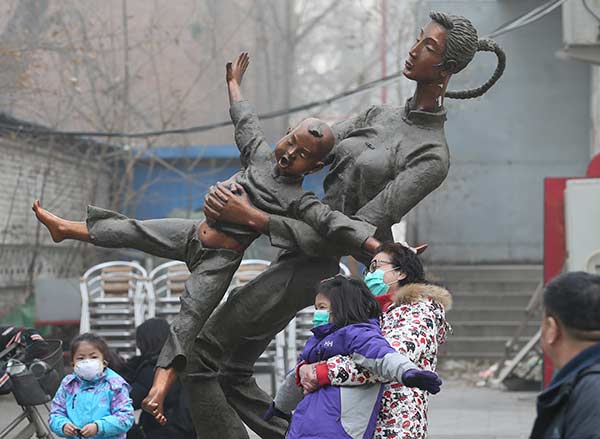 A mother and daughter wear masks as they pose with a statue in Beijing's Wangjing area on Sunday. [Wang Zhuangfei/China Daily]
With heavy smog dampening the festive atmosphere in northern China, the country's environmental authorities are strengthening inspections and enforcement to fight air pollution violations.
As people celebrated the arrival of 2017, air pollution shrouded major cities in North China, where heavy smog affected outdoor activities and disrupted traffic.
The smog prompted 24 cities including Shijiazhuang and Baoding in Hebei province to issue red alerts and 21 cities such as Beijing and Tianjin to issue orange alerts. Heavy smog was expected to remain until Thursday, when cold winds were expected, according to the National Meteorological Center of the China Meteorological Administration.
China has a four-tier warning system for severe pollution. Red is the most serious, followed by orange, yellow and blue.
A red alert means heaviest pollution for three consecutive days or longer, which triggers a series of measures including school closures, factory shutdowns and limited use of vehicles.
According to the Beijing Traffic Management Bureau, heavy smog had reduced visibility to around 50 meters on some expressways of the capital city. Sections of eight expressways had been closed by 9:30 am on Sunday.
At Zhengding International Airport in Shijiazhuang, 88 flights were canceled and 40 delayed by 4:30 pm on Sunday due to thick fog and light snow.
Lu Xi, who lives with her two sons and husband in Beijing, planned to drive back to her hometown of Tianjin, about 120 kilometers southeast of the capital, on Saturday evening. However, she was forced to postpone the trip and go instead by train on Sunday morning.
"We were stuck for almost four hours in a traffic jam just outside Beijing on the highway, while it normally takes just two hours to go back home in good weather conditions," said Lu, a financial sector employee who has worked in Beijing for 10 years.
"We had to turn back from smaller roads and took the train today. My two sons, who are too young to be exposed to such pollution, suffered a lot going back and forth."
With the aim of strengthening pollution-cutting measures, the Ministry of Environmental Protection, with support from local governments and law enforcement departments, sent seven inspection groups on Nov 24 to smog-affected regions, including Beijing, Shanghai and Hubei province, to monitor implementation.
Through public tips and random checks, the inspection groups, which finished their work on Friday, have held 2,682 local officials accountable for dereliction of duty in environmental protection and imposed total fines of 243 million yuan ($34.9 million), according to the ministry.
Some violations against environmental protection regulations were exposed during the inspection.
For example, some iron and steel makers operating in Hebei province surrounding Beijing were found to be discharging pollutants despite suspension of production ordered during the smog-alert period. They were expected to face heavy penalties, the ministry said during the inspection period.
Wang Canfa, a professor of environmental law at China University of Political Science and Law, was quoted by Xinhua News Agency as saying, "The inspection against pollution on the national level has proved to be an effective deterrence for misconduct by local governments and rule-violating enterprises."
Wang said he expected that the government "will continue to implement such tough measures and highlight the weight of environmental protection efforts in the evaluation of local governmental officials".