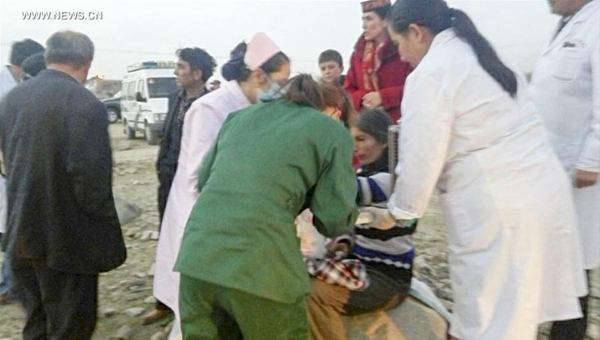 Residents receive treatment at Kuzigun Village in Taxkorgan County, northwest China's Xinjiang Uygur Autonomous Region, May 11, 2017. [Photo/Xinhua]
Eight people have been confirmed dead and 23 others were injured after a 5.5-magnitude earthquake jolted Taxkorgan County in northwest China's Xinjiang Uygur Autonomous Region at 5:58 a.m. Thursday.
So far, the quake has left lives of more than 12,000 people affected. A total of 9,200 people have been relocated to safe places.
The injured people have been sent to hospital for treatment. More than1,000 soldiers and police officers, and 1,500 civilians have rushed to the quake-stricken areas for rescue. Relief goods are already on th way, according to the quake emergency response headquarters.
Wang Fuyou, Communist Party chief of the county, said the quake followed by frequent aftershocks was felt strongly.
Cracks appeared on walls of houses in the county seat. Some people were buried after adobe houses near the epicenter collapsed, according to Wang.
The county government has sent personnel to search for the buried people in Quzgun Village, the worst-hit village in the quake with a population of 449, Wang said.
In Quzgun Village, 820 heads of livestock were injured or killed and 1,520 homes collapsed.
The power supply company of the county said the power supply network across the county including the quake-hit areas operates normally. The water supply and communication in the county seat also operates normally.
As of 10 a.m., the Xinjiang seismological bureau recorded 82 aftershocks following the quake.
The epicenter, with a depth of about 8.0 km, was monitored at 37.58 degrees north latitude and 75.25 degrees east longitude in the southeast part of the Pamir Plateau.
The average altitude within 5-km around the epicenter is 4,347 meters. The population within a radius of 20 km and 50 km from the epicenter is estimated at 580 and 6,200 respectively.
Taxkorgan, some 1,250 kilometers from Urumqi, capital of the region, borders Pakistan, Afghanistan and Tajikistan.
The area within a radius of about 200 kilometers from the epicenter has recorded 226 earthquakes above 3 magnitude over the past five years, including a 6.7-magnitude quake on Nov. 25, 2016 in Akto County.