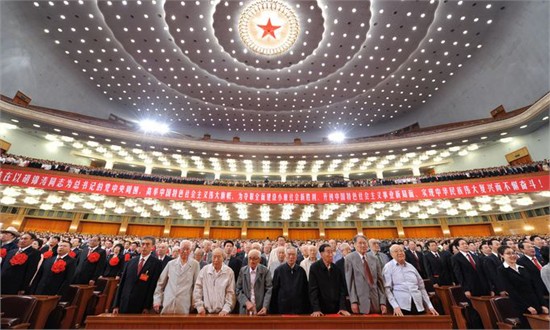 Party representatives sing the national anthem at a ceremony marking the anniversary held Friday at the Great Hall of the People in Beijing. [Photo: Xinhua]
Chinese president Hu Jintao highlighted challenges such as corruption and alienation from the people while hailing the achievements the Communist Party of China (CPC) has made over the past 90 years.
"We are facing long-term, complicated and severe tests in governing the country, in implementing reform and opening up and in developing the market economy," Hu, also the general secretary of the CPC Central Committee, said in a keynote speech at a grand celebration in the Great Hall of the People in Beijing on Friday morning.
"The whole Party is confronted with the growing dangers of lacking in drive, incompetence, lacking in initiative, and corruption," he added.
The 90-minute speech was punctuated by 23 rounds of applause from more than 6,000 attendees, including members of the CPC's Central Committee, the top legislature, the top political advisory body and non-Communist parties as well as retired CPC cadres.
Meanwhile, millions tuned in across China as the speech was broadcast live on China Central Television.
"Hu's speech was objective and clear, and frankly assessed the achievements and problems that lie ahead," Cai Xia, a party history professor with the Party School of the Central Committee of CPC, told the Global Times on Friday.
"Instead of high-sounding slogans, the words were simple and plain," Cai said, noting that during its anniversary, the Party should not merely rest on its laurels but also reflect on the lessons learnt and the errors made.
Huang Weiding, a researcher at Qiushi, the official magazine of the CPC Central Committee, said Hu's remarks had "touched" people's hearts.
Hu underlined that relations with the people is the basis for the survival of the Party, the challenges the Party is facing and the new requirements for a better leadership, governance and society, Huang told the People's Daily.
Hu stated that the growth of the Party over the past 90 years shows that cracking down on corruption is key to its support among the public.
He asked all Party members to remember to "put the people foremost in their minds, respect the people as masters of the house and their creativity, and treat them as teachers."
"Keeping close ties with the people gives the Party its biggest political asset, while divorce from them poses the greatest risk to us," Hu said. "The people will care about and feel close to the Party only when the Party feels the same toward them."
Hu also acknowledged the launch of reform and opening up in the last three decades and claimed that reform would be deepened in economic, political, cultural and social systems. "Only by carrying out reform and opening up can we develop China, socialism, and Marxism," Hu said.