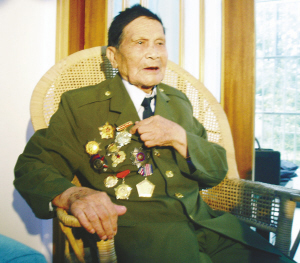 Liu Yingqi
In his youth, Liu Yingqi was part of the Long March. Since then, he has devoted his life to carrying out ideals of the Communist Party.
He was a participant of the Long March, who twice crossed the Dadu River and climbed snowy mountains three times. He is a keeper of the revolutionary tradition, who has written 1 million words in his reading notes and delivered more than 1,000 speeches after retirement. Some people say he has spent his whole life on the march. But Liu Yingqi is most proud that he has spent his life "earnestly implementing" the Communist Party oath.
Now, Liu often reads the Revolution History of the Long March with the help of a magnifying glass, recalling the footprints of 70 years ago.
Born in Shangcheng, Henan Province, in 1911, Liu got his start in the military in 1930, joining the Red Army along with Kuomintang deserters and peasants from the Communist rural provinces. He joined the Communist Party in 1933.
Liu still remembers the day, on June 26, where he solemnly lifted his right hand before a portrait of Karl Marx. He says his good health and long life has been the basis for him to serve his people.
During the Long March, which started in the 1934 in present-day Jiangxi Province, Liu was assigned to the Asylum team. His main duty was to help injured soldiers.
"I worked on the Asylum team when we passed through the grassland and treated more than 300 injured or left-behind soldiers," Liu said. "I also witnessed the deaths of my fellow soldiers."
Liu said to survive, soldiers would sometimes eat yak feces. They were also forced to march in extreme weather conditions. Once, during a hailstorm, ice pellets battered the soldiers. One of Liu's comrades was too exhausted to climb the hill. Liu ran to help him against the hail to pull him up by the hand.
Liu, who is now 100, still dresses in his full military uniform. He retired on Aug. 28, 1965, beginning his new "Long March."
He lives in a small house in Yangzhou, Jiangsu Province. He fills his time through volunteer work that involves visits to the poor and donates money to children from impoverished families to pay tuition for school. He also listens to the radio, reads the newspaper and watches news on TV every day.
"Retiring does not mean resting to him," said Zhang Huaisen, the political commissar of Yangzhou Military Sector.
Liu has traveled all over China to give speeches about his experiences at more than 1,000 schools, factories and organizations, some in rural areas. He tries to provide inspiration and instill the spirit of the Long March in his audiences.
"Isn't it hard to climb mountains? Isn't it dangerous to pass through grasslands? Rely on faith and will, we can overcome every difficulty," he once said to workers at a factory facing bankruptcy.
Liu also donates most of his retirement stipend to a charity. As a former cadre, he receives 10,000 yuan a month from the government. In 1995, he was the first person in his city to donate to the local Project Hope, a foundation associated with the Communist Youth League that aims to bring schools into impoverished areas and that had just begun efforts in Yangzhou. Since then, he has donated more than 400,000 yuan to the organization. More than 200 needy children have received help from him.
"He is happy to be poor," says his wife.
Liu agrees. "I have no savings, but I am a rich man," he said.
Liu also donates a lot of his time to helping his community. In the summer, he volunteers as a traffic officer and helps children cross the street. Once, in the summer of 2003, catastrophic flooding along the Huaihe River called for military rescue teams to build a temporary dam that would prevent the water from damaging crops and houses. Liu, then 92, asked for a "battle assignment" and was assigned to hand out drinking water to the soldiers.
Liu attributes the Long March's success to help from the people. "So we need to be grateful to them and pay them back," he wrote in his reading notes.
CPC members should work for people's welfare but should not seek personal gains for their families, Liu says.
Liu has adhered to this philosophy with his own family. He did not support a military promotion for his older son. Likewise, he said his second son was not competent for a job in the public security department. Then, when his daughter wanted to return to the city after being a rural collective laborer, he said that if the offspring of farmers can till the land, so can the offspring of a Red Army soldier.
"For the common people, a party member is a representative of the CPC," Liu said. "I'm 100 years old, and I should keep on protecting the Party's integrity and being a model. My every action should add luster to the Party flag."