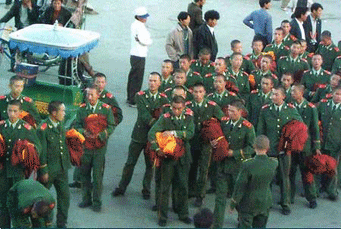 By John Sexton
A photograph being circulated on the Internet by some Tibet activists, purporting to show Chinese paramilitary police preparing to disguise themselves as lamas during the recent Tibet unrest, turns out to be of troops drafted in as extras during the making of a 2003 feature film.
[Full coverage] [

Videos]
The truth was unearthed by Mr Ehron Asher; a Buddhist in the Tibetan tradition whose religious name is Palchen Chotsam.
On his website Mr Asher describes how the India-based Tibetan Center for Human Rights and Democracy (TCHRD) acknowledged in an email that the photo had appeared on the back page of its 2003 Annual Report, and was of a film shoot. He made no suggestion that TCHRD was involved in the recent circulation of the image.
Picture allegedly showing troops disguising themselves as monks was of troops taking part in a film shoot as extras.
Summer uniform for paramilitary police in 2005
Winter uniform for paramilitary police in 2005
Winter uniform for paramilitary police in 2005
Mr Asher claims to have received the photograph in a email circular from a Buddhist group, together with an article written by a Gordon Thomas claiming that Britain's secret service, using intelligence gathered by its GCHQ monitoring station, including satellite photographs, had determined that the Lhasa riots were initiated by Chinese government agents provocateurs.
Mr Asher emailed the GCHQ press office to check the story, but a spokesperson said there was no record of Mr Thomas contacting the organization on the matter.
Mr Asher describes himself as a strong opponent of China's Tibet policy but firmly opposed to the spreading of false rumors.
Some Chinese Internet users also pointed out inconsistencies in the photo; they said the paramilitary police were wearing out-of-date uniforms; badges were changed in January 2005 and the uniform fabric in May 2006. They also pointed out that in March, policemen would be wearing winter uniforms, not the summer uniforms shown.
The Dalai Lama has claimed that Chinese troops disguised as monks were responsible for instigating violent clashes in Lhasa. The Chinese government has repeatedly denounced his claims as completely without foundation.
(China.org.cn April 3, 2008)