A detailed and massive investment plan will be introduced in a bid to boost Xinjiang's economy during the upcoming central government's working conference on issues affecting Xinjiang this May, though the region's development will not entirely rely on it, a senior official said on Saturday.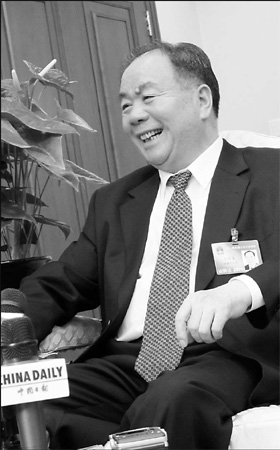 Wang Lequan, Party secretary of the Xinjiang Uygur autonomous region.
"Xinjiang needs to be self-reliant in its development, because it is the key to maintaining Xinjiang's social stability. We welcome the central government's aid, but we cannot just rely on it," Wang Lequan, Party secretary of the Xinjiang Uygur autonomous region, told China Daily during an exclusive interview.
The region's development should not simply rely on a "blood transfusion" from the central government. It must use this assistance to create a "blood-producing system" of its own, he said.
Xinjiang should not merely sit and wait for financial assistance and preferential policies from the central government. The region's development depends on it generating its own, Wang explained
Premier Wen Jiabao said earlier that the central government would formulate and implement policies for the economic and social development of Xinjiang, Tibet and Tibetan ethnic areas during his annual work report at the National People's Congress.
"We can see the central government's determination to help Xinjiang - a region that has recently been under attacks by separatists - maintain long-term stability through economic development and improving people's living standards," he added.
The social situation can only become stable when the problem of people's livelihood is solved and economic development is the solution, the Party chief emphasized.
Last year, Urumqi, capital of the region, experienced a riot on July 5, which left 197 dead and 1,700 injured. Overseas separatists were believed to have organized the riot.
Wang said it is not about how much money will be invested in Xinjiang. What is really important is that the plan can boost people's confidence and clear their doubts about investing in the region.
He predicted that investment in fixed assets will "jump sharply" after the plan is released as a result of initial investment from the central government and from State-owned enterprises, which are encouraged to engage in business in Xinjiang to "realize fast-paced economic development".