A senior environmental official said China should consider capping coal consumption in Yangtze River Delta, Pearl River Delta and the Beijing-Tianjin-Hebei area, amid growing environmental pressures caused by rapid economic growth.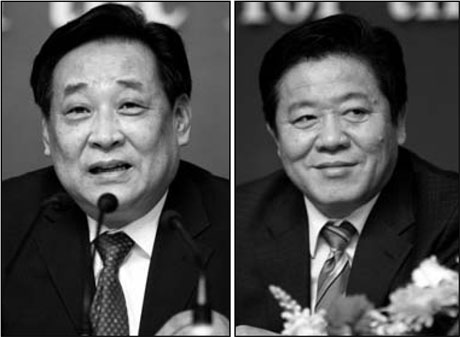 Zhang Lijun, left, is vice-minister of environmental protection. Zhao Hualin is director of the ministry's pollution prevention department.
China still faces grave cases of pollution despite the progress in cutting pollutants made during the past five years, Zhang Lijun, vice-minister of environmental protection, told a press conference during the national parliamentary session in Beijing on Saturday.
"In some regions, emissions of traditional water and air pollutants still remain higher than the environment can accommodate," Zhang said.
"Meanwhile, the country is faced with new challenges from soil pollution, hazardous waste and electronic waste. Such pollution poses even greater threats to human health," said Zhang.
Zhao Hualin, director of the ministry's pollution prevention department, said the country has set mandatory targets to reduce sulfur dioxide, a major cause of acid rain, and chemical oxygen demand, a measurement for water pollution, by 8 percent from 2010 levels during the next five years.
And emissions of nitrogen oxides (NOx), which comes from combustion of fossil fuels and damages people's respiratory systems, and ammonia nitrogen, which leads to excessive food sources for bacteria in water bodies, will be slashed by 10 percent from 2010 levels in the same period.
Zhang admitted curbing NOx emissions represented the biggest challenge, citing concerns over the country's expanding appetite for coal consumption and the rapid increase in car ownership in big cities.
"Between 2006 and 2010, coal consumption increased by about 1 billion tons. And it is likely to see another 1-billion-ton rise in the coming five years," said Zhang.
Coal remains the country's prime energy source, accounting for up to 70 percent of the energy mix. In 2010, China used 3.25 billion tons of standard coal equivalent.
Nitrogen emissions from vehicles added to the difficulties in curbing pollution, according to Zhang Lijun, who suggested imposing restrictions on car ownership in big cities with populations larger than 10 million.
The craze for economic growth among local governments also poses challenges for China's environment. Moreover, the anticipated rapid urbanization over the next five years will also push the country to seek greener growth, according to Zhang.
"Striking a balance between economic growth and environmental protection is the responsibility of governments at all levels," Zhang said, adding that local officials will be reviewed for both the growth rate in their regions and their efforts to protect the environment and public health.
Between 2006 and 2010, China reduced sulfur dioxide emissions by 14.29 percent and chemical oxygen demand by 12.45 percent from 2005 levels.