Craft from past woven into future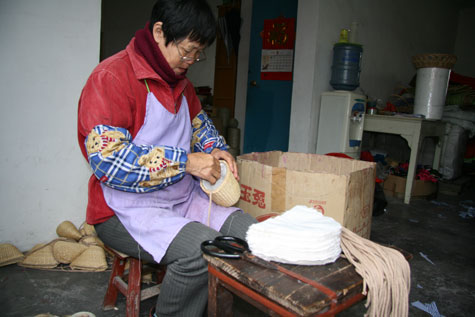 The skill of weaving grass fiber was passed down from generation to generation, but it's now only practiced by the district's older people.
Li Xiumei, aged 64, is exceedingly handy when it comes to both grass weaving and needle and thread work. Every weekday, she weaves handbags in a handicraft factory in Xuhang Town in Jiading District. Finished handbags, baskets, slippers and other products lie at her feet.

"I have been producing grass- weaving handicrafts for more than 50 years. My mother taught me when I was little," Li said as she weaved the yellow grass by hand. "Everyone in our town knows how to weave. It's a kind of family tradition."

In Xuhang, grass weaving was both a family business and a favorite pastime for residents in olden times. Regarded as essential for every family, it was a skill that every resident in town, regardless of their gender, was expected to master.

However, this folk art form is in grave danger of dying out as it is so time-consuming and it just doesn't produce sufficient profits. For its protection, Xuhang grass weaving was listed as a Shanghai Intangible Cultural Heritage last year.

This traditional handicraft employs the yellow grass which grows along the banks of lakes and rivers.

The grass features a strong, smooth and durable fiber. The grass can be dyed into various colors and made into different handicrafts. The products include bags, plates, slippers, coasters and baskets.

In the Qing Dynasty (1644-1911), woven slippers with embroidered dragons and pigeons were popular gifts for newly-married couples.

In common with other traditional customs and art forms, Xuhang grass weaving has its own stories. In one famous local tale, it is said that once there was a beautiful and diligent bride who lived in a poor family in Xuhang town. Her family could not afford a pair of shoes for her marriage gift. The girl was very sad and cried while walking along a river bank.

A nearby cow then approached her and presented her with a bunch of yellow grass. The idea of weaving a pair of yellow grass shoes came to her and she wore her DIY grass shoes to the wedding and won applause from the guests. Grass weaving then became prevalent throughout the town and the girl was deemed the "grass-weaving angel" of the town.

Every family traditionally dedicates some land to growing yellow grass.

They grow their own grass and make their handicrafts to sell. Basket and other plant fiber products such as sleeping mats and sunhats were made for personal use in rural families.

Orders for these handicrafts have been received from Southeast Asian and European countries.

Unfortunately, despite the growing fame of this art form, few young people have chosen to carry on the craft today. In modern society, a girl is no longer expected to excel at weaving or needle work and today, only those individuals over 60 know how to weave.

"Trying to find people who can still weave in this town has proven very frustrating," said Gu Baipi, manager of Xuhang's biggest grass-weaving factory. "I have had a really tough time in recent years as grass-weaving handicrafts are time-consuming and produce low profits."

There were approximately 10 workers in the factory, mostly over 60. The factory collects part-finished grass weaving products from local farmers to further the process. There are approximately 250 farmers in the town with grass-weaving skills.

Recently, the factory received an order of 3,000 pairs of slippers. Such a big order is usually good news for manufacturers, but, due to the lack of craftsmen, the order has become a big headache for Gu. "Where can I find all the craftsmen needed to finish this order?" the desperate factory manager asked.

To preserve the craftsmanship is to preserve the centuries-old memories of the Xuhang farmers. Now, the district is applying for state-level Intangible Cultural Heritage status in order to receive stronger economic support.

To better protect this intangible cultural heritage, Jiading District has invested 300,000 yuan (US$42,353) and set up a 5,000-square-meter grass-weaving creative zone in Xuhang.

The creative zone was opened to the public this month and features studios with grass-weaving craftsmen, exhibition halls and a tea house.
(Shanghai Daily March 22, 2008)