Actor Li Yapeng has reconciled with the reporters he attacked Wednesday in the Bangkok airport, but further details of a settlement are still under discussion.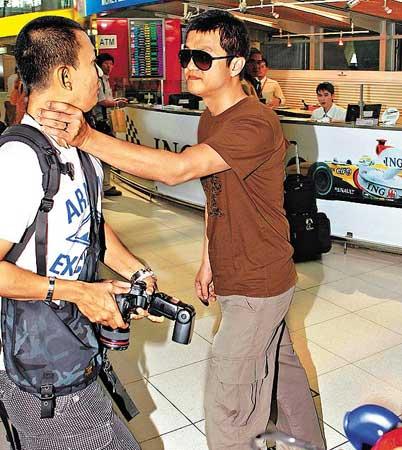 Li Yapeng (R) attacks a photographer in Bangkok airport in Thailand on Wednesday, July 23, 2008.
Li Yapeng and his singer wife, Faye Wong, arrived in Bangkok with their two daughters on Wednesday for a transfer flight back to China, after attending Tony Leung and Carina Lau's wedding ceremony in Bhutan earlier this week.
There, the family was quickly surrounded by throngs of Hong Kong entertainment reporters waiting there for glimpses of celebrity guests from the wedding. A male photographer rushed over to two-year-old Li Yan, the younger daughter who has been protected from media exposure, where he was attacked by her angry father.
Li Yapeng punched another male reporter in the chest and caused a female photographer's camera to drop twice, according to reports.
"Haven't you seen him pestering my kid? The camera almost touched her face! You can shoot me, but keep away from my kid! Not just this time - next time I'll react the same way. I'll protect my kid by any means," Li told a TV reporter in footage of the incident.
The photographer later reported the incident to the local police, who investigated Li Yapeng Wednesday night.
Upon his arrival in Beijing on Thursday afternoon, Li Yapeng said, "(The case) is settled, otherwise we wouldn't be here. I hope the media doesn't try to hurt my kids in the future."
Faye Wong did not offer a comment.
Faye Wong married Li Yapeng in 2005 and gave birth to Li Yan in 2006. The girl was born with a cleft lip and has had several surgeries to correct it. Shortly after her birth, the celebrity couple founded the Smile Angel Foundation to help children with cleft lips whose families cannot afford treatment.
(CRI July 25, 2008)