Almost 80 years ago, Shanghai was the hub of a thriving film industry. Just as Hollywood was producing popular movies and big stars, so too was our fair city.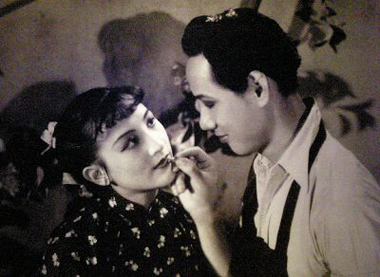 As cinema production took off in many Western countries during the early 1920s, Shanghai was already in its golden period having began to produce many full-length films depicting domestic themes and subjects.
Shanghai in the 1920s-30s was a metropolitan city open to fresh cultural ideas. Even though the first indigenous film making started in Beijing, the core of Chinese film production resided in Shanghai.
Both national and international film markets were developed in Shanghai as film companies received continuous support. Shanghai was a modern city by many measures and thus became a pacesetter for the rest of China.
"People throughout China got indications of what might be coming for them in terms of new and modern culture by paying attention to what was happening in Shanghai, including cinema," says Paul Pickowicz, a professor in Chinese studies from University of California, San Diego.
Pickowicz has written many books about Chinese history and has a special interest in old Shanghai films.
Cinema in Shanghai during the early 20th century incorporated many themes, ranging from comedies - which were one of the first developed genres - to martial arts films, to the most popular genre - melodrama, particularly romance and family melodramas.
Most of the films produced during this time were adaptations from romantic "butterfly fiction" or scripts written by "butterfly writers." Butterfly style entailed popular romance in the early 1900s. Most of the 600 feature films made during this period could be labeled as "butterfly films."
Cinema in the city was pioneered by Zhang Shichuan and Zheng Zhengqui, who set up the Mingxing Film Co in 1921. It ended up being the first major, long-lasting studio in Shanghai.
In 1926, there were about 145 other film companies in Shanghai. Mingxing Film Co also founded the Star Film Acting School to train future stars.
Some popular films created by Mingxing Studio were "Spring Silkworm" in 1933, about a poor family who suffers hardships because of selfishness and superstition after their crop of silkworms die.
Another was "Laborer's Love" (also known as "Romance of a Fruit Peddler") in 1922, the earliest complete film of China's cinematic history which is still available today.
This movie is a romantic comedy about a fruit vendor who wins the heart of a doctor's daughter after arranging business opportunities for his future father-in-law.
As movies made a dramatic impact on modern Shanghai culture, the introduction of beautiful actresses became important as well.
The most famous actresses were Ruan Lingyu, Li Lili, Wang Renmei and Zhou Xuan who received most of the attention as leading actresses in the 1930s. Today, they remain popular in Chinese culture, mainly because their films were the few that survived throughout the 20th century.
"From the start, women were at the center of Shanghai film making," says Pickowicz.
It was the novelty of seeing beautiful women on the screen in seductive roles that made melodramas so popular. In early Chinese history, women were banned from the stage so men played female roles in popular entertainment, such as in Peking Opera.
To finally see women on screen in a variety of settings was an unprecedented change to Chinese culture. In these popular family melodramas, many directors incorporated moral messages about glamor and adventure.
These themes greatly appealed to the Chinese public because they could see the lavish lifestyles of the elites, the livelihoods of the rural peasants and their issues and struggles.
At the same time, the film industry was prospering in the early 20th century as many overseas Chinese talents and capital contributed to the investment in the film industry.
Most of the movies were shot in major production studios. However, they also worked outdoors in the streets of Shanghai and in rural areas outside the city.
The experience of watching movies in the heart of Shanghai was generally a lavish experience. The first-run domestic and foreign films were screened in elegant cinemas.
However, the places that catered to the middle and working class were usually located in less central places. By the beginning of the 1930s, Shanghai alone had housed 53 movie theaters, with a combined seating capacity of 37,110.
To see restorations of Shanghai's film industry in the early 20th century, Shanghai Film Archive has dedicated itself to preserving aspects of old film culture.
(Shanghai Daily December 1, 2008)