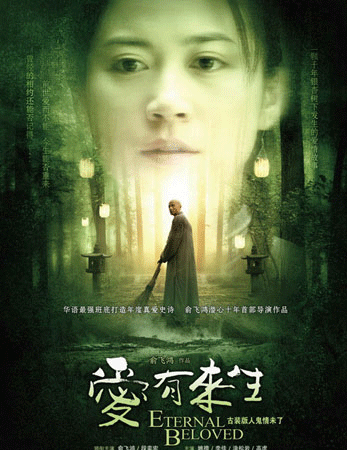 Poster of "Eternal Beloved" 
Actress Yu Feihong's directorial debut "Eternal Beloved" hits cinemas across China on September 3, just days after the end of the blockbuster-jammed summer movie season.
The ghost-human love story, which took Yu 10 years to make, is based on "Gingko Gingko," a 1990 novella by Shanghai writer Xu Lan.
Billed as a Chinese version of the 1990 American film "Ghost," the movie has already won praise from critics following its test screenings.
Television actor Duan Yihong co-stars in the film.
Opening on the silver screen along with the ghost film is "Tiananmen," a tribute film to the 60th anniversary of founding of New China. The story revolves around a team of stage performers given the task of refurbishing the Tiananman tower a month before it is to be used as the venue for the founding ceremony of the People's Republic of China in 1949.
(CRI September 4, 2009)