Insurance
In 1981, the People's Insurance Company of China was transformed from an administrative institution into a specialized company. It then established an organizational structure extending from the head office and branch offices at the provincial or equivalent level down to sub-branch offices at the county level. In 1988, the Safety Insurance Company was established, with its business mainly in the coastal areas. Subsequently, the Pacific Insurance Company was set up, providing services all over the country. In 1996, the People's Insurance Company of China made a big stride in the transfer of its administrative system and operation methods, establishing a modern enterprise system, and linking up with the international market. The issuing of the Insurance Law and the founding of the China Insurance Supervision and Control Committee provided a legal basis and operating procedures for the operations of the insurance market. In 1999, there were 29 insurance companies nationwide, of which four were state-owned ones, 10 were joint-stock ones, five were Sino-foreign joint-venture ones and 10 were branches of foreign insurance companies. Thus, a new insurance system with the state-owned insurance companies at its center, coexisting and competing with many other insurance companies, has begun to take shape. At the same time, exchanges and cooperation between the Chinese and international insurance markets have been strengthened. By the end of 1999, representative offices had been set up in China by over 100 insurance organizations from other countries and regions.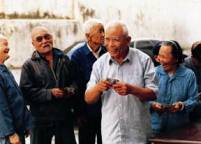 Ten percent of peasants in China have now joined the rural pension scheme. In this scene old folks in Juntun Village of Zhanzhou City, Hunan Province receive their insurance money.
After the insurance industry in China resumed its activities, at first it only handled property insurance for enterprises. Now, many insurance companies handle more than 280 kinds of insurance coverage both at home and abroad, and the industry is gradually approaching the business range common in the international insurance industry. In 1999, the income of insurance businesses (solely foreign-funded organizations included) totaled 139.3 billion yuan, of which 52.1 billion yuan came from property insurance, 76.8 billion yuan from life insurance, and 10.4 billion yuan from health insurance and accidental injury insurance. The various indemnities totaled 51 billion yuan, of which 31.8 billion yuan was for property insurance and short-term personal insurance, and 19.2 billion yuan for life insurance.