Cinema

The past 90 years or so have seen such excellent movies as Angels of the Street, Spring in a Small Town and Yellow Earth, and eminent movie artists such as Ruan Lingyu, Xie Jin and Zhang Yimou.

In the 20 years since the introduction of China's reform and opening to the outside world Chinese film workers have kept forging ahead and a galaxy of talented movie artists have come to the fore. Artistic productivity and creation have been unprecedentedly vigorous. The period from the mid-1980s to the early part of the 1990s is usually called the second climax of the development of Chinese movies. During this period, with the ideological emancipation of the Chinese people, Chinese movies started to reach a stage of unprecedentedly democratic and active artistic creation. A number of excellent movies, such as The Founding of New China, Zhou Enlai and Qiu Ju Goes to Court were shot.

In the 1990s, China entered an age of particularly active economic growth. Movies advocating patriotism, collectivism and the striving for a happy life through honest labor have become the mainstream of creation. The outstanding examples of these were The Great Turning-Point, The Opium War, and Red River Valley.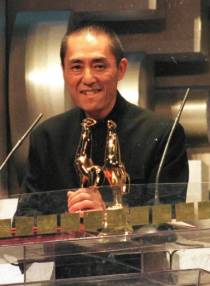 The 8th China Golden Cock and Hundred Flower Award Film Festival was held in Shenyang in Oct. 1999. The picture shows Zhang Yimou, the famous film director who won the 19th Golden Cock Award of Best Director for the film "Not One Less".
Another conspicuous phenomenon is the creation of movies with the themes of "good people and good deeds," as well as ethics. For example, In the Days Since I Left Lei Feng, which hailed the spirit of Lei Feng, a soldier who was always ready to help others and is well known to the Chinese people, was very popular. The creation mode of mainstream Chinese films has been gradually improved, and now meets the demands of the market.
Another feature of Chinese movies in the 1990s is the introduction of first-class foreign movies to China, which have stimulated the interest of Chinese audiences, brought more profits to cinemas, and stimulated film workers' ideas and creativity, thus pushing forward the reform of the systems of creation, distribution and showing of Chinese films. The preliminary establishment of the independent producer system in the 1980s changed the situation in which state investment was the main form of funding for movies. The investment in movies is tending to become more rationalized, and financing channels and the themes of movies are becoming more diversified.