Peking Opera and Local Operas
China boasts more than 300 forms of traditional opera, of which Peking Opera is the most popular. It took shape in the early 19th century in Beijing, hence the name.
Peking Opera is a unique art combining drama, singing, music, dancing and martial arts into one. There are more than 1,000 works in the repertoire, developed over 200 years. In the 50 years since the founding of New China the state and people have paid great attention to Peking Opera. A lot of new works have been staged, with themes ranging from historical stories, modern revolutionary war and socialist construction to everyday life. At the same time, a group of outstanding Peking Opera actors and actresses have emerged, including Mei Lanfang, Cheng Yanqiu, Ma Lianliang, Zhou Xinfang, and Du Jinfang. To develop the quintessence of Chinese culture many artists and opera fans have done a lot of work to promote this genre, even attracting foreign audiences.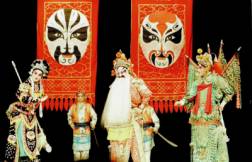 The China National Peking Opera Troupe performed Hua Mulan at a hall in a New York fashions industry college, on Feb 18, 1999.
At the Crossroads has been performed in many countries. Three martial heroes meet in an inn. They quarrel, and attempt to secretly kill each other in the dark. The skillful acrobatics called for in this opera are both thrilling and humorous. Combat routines in the Peking Opera repertoire such as this one combines Chinese martial arts and the dramatic art and the actors and actresses must undergo strict physical and skill training from childhood before they can live up to the roles they play in such routines. Outstanding among them was the late Mr. Gai Jiao Tien, who performed these militant acts still with ease even at the age of 70.
Mei Lanfang, who always played female roles, introduced Peking Opera to Japan, the United States and the USSR as early as in the 1920s and 1930s.
The Peking Opera Institute, founded in 1950, has trained a lot of excellent Peking Opera actors and actresses who have inherited the artistic achievements of previous generations and developed new characteristics of their own. At the same time, the other local operas have made reforms continuously, on the basis of keeping their basic traditions. Some of the local operas have become very popular in recent years, such as Yueju (Shaoxing Opera from Zhejiang), Huangmeixi (from Anhui), Chuanju (Sichuan Opera), Yuju (Henan Opera), and Yueju (Guangdong Opera). Tibetan opera has a religious tinge and is imbued with Tibetan ethnic folklore. It is bold and unconstrained and is becoming more and more popular both at home and abroad.