Tung Talks Economy With Bush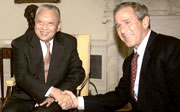 Hong Kong had recovered from the Asian financial crisis and expressed appreciation for his support for China's entry into the World Trade Organization, Hong Kong Chief Executive Tung Chee-hwa told US President George W. Bush during their first ever meeting on Wednesday.
The Oval Office meeting came after Tung paid an early courtesy visit on US Secretary of State Colin Powell and had lunch with Deputy Secretary of State Richard Armitage, US officials said.
Both sides said the discussions had also emphasized the importance of seeing the US Congress extend normal trade relations (NTR) with China, which some US lawmakers want to deny Beijing in excuse of human rights.
"I expressed my appreciation for the administration's initiative on NTR: it is important for China, for the United States of America, but I think it's very very important to Hong Kong as well," said Tung.
Asked whether Sino-US ties had fully recovered from the tense standoff earlier this year over a downed US spy plane, the chief executive said "the relationship now is moving forward in a very positive way."
"There is a need for both United States of America and China to work hard at this relationship," he told reporters.
Tung left the State Department waving and smiling to reporters but refused to answer questions about the talks.
(Chinadaily.com.cn 07/12/2001)