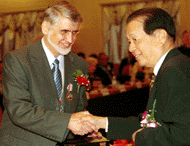 When Philip F. Murtaugh first came to China in 1996, he had no idea how significant the experience of life in this ancient country would be for him.
He was assigned to build a new auto company in China by the General Motors Group.
Nearly five years later, thanks to him, Shanghai GM has grown from scratch into a leading auto company in China.
Murtaugh, now the chairman and CEO of GM's China Group, finds he has become fully involved in China's development.
Friday in Beijing, together with 40 other foreign experts from 22 countries, Murtaugh was given a Friendship Award, the top award for foreigners who have made great contributions to China's development in any fields.
The photo on the left shows Vice-Premier Qian Qichen shaking hands with Frienship Award winner Professor Gregoire Vignola, who is now working at Zhongnan University in Central China's Hunan Province.
(China Daily 09/30/2000)