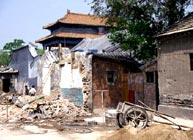 Local archaeologists and experts are urging Beijing government to protect cultural relics that might be damaged by the massive construction campaign about to start to prepare for the 2008 Olympic Games.
"I hope the bulldozers only scrape the ground even instead of disrupting our long history so future generations do not regret what we did," said Song Dachuan, head of the Beijing Historical Relics Institute.
Song said the 2008 Summer Games will certainly help along Beijing's modernization drive, but evidences for 3,000-year history of the ancient capital must remain intact.
"Without its history, any city will lose its charm and spirit, just like a man losing his memory," Song said.
Among the concerns is the massive renovation planned for ramshackle houses in the downtown area over the coming three years.
That could endanger the protection of historical relics, especially those underground, he said.
Already, some examples of workers damaging relics have occurred. An ancient stone bridge of the Yuan Dynasty (1271-1368) was harmed while extending a street in southern Beijing this month, according to experts.
Song said the company involved and some government officials deliberately ignored the accident.
Residents and travel services were worried that large-scale renovation may affect the city's thriving industry of tours through Beijing's hutongs, or old lanes, and buildings, because many will be demolished to alleviate downtown traffic jams.
The local government has allocated 330 million yuan (US$39.8 million) over three years to protect major historical relics and sites, including old houses of famous people.
As part of that, Chongwen District is working to save the 1,450-metre-long city wall relics of the Ming Dynasty (1368-1644) which stands near the Beijing Railway Station.
Some experts suggest the local government should find new ways to obtain more money for cultural relic protection.
"We should work hard to protect historical relics while improving resident housing and reduce traffic, which are very important goals for the Olympics," said Ren Deqiang, member of the Beijing Municipal People's Political Consultative Conference.
"While we acknowledge our colorful culture and long history and maintain our ancient capital, we also must move towards the future."
Also, in northern Beijing's Haidian District, a real estate company erecting an apartment building destroyed the ruins of a garden of an emperor's relative created during the Qing Dynasty (1644-1911).
That act prompted officials with the Beijing Cultural Relics Protection Administration to speed up efforts to curb such malpractice.
( China Daily 08/17/2001)