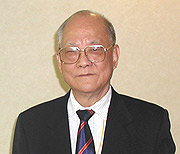 NG HONG MUN
Question: Where are you from?
Answer: Hong Kong. I am the chairman of the Hong Kong delegation to NPC.
Question: What is your profession?
Answer: Writer, chairman of the Hong Kong Pui Kiu Middle School.
Question: What is the issue of most concern to people in your area of China?
Answer: Hong Kongís current gloomy economic situation and high unemployment rate are the two issues of concern for most Hong Kong residents. Another hot topic is how to retain Hong Kongís characteristics while strengthening cooperation with mainland.
Question: What proposals have you made, or what did you hope to accomplish at this session?
Answer: I was elected as a NPC deputy for six terms, and I myself canít remember how many proposals I had made. China has adopted democratic centralism, a more advanced democratic system than that of the Western countries, and should make full use of it. However, democracy often succumbs to centralism. In my opinion centralism should not hold a key position in the decision-making process.
Question: What have you seen achieved over the last five years?
Answer: China has made a big step towards being a democratic country, but still has a long way to go.
Question: When Congress is not in session, how do you exercise your responsibilities as deputy?
Answer: As we have no local NPC branch in Hong Kong according to the Basic Law, deputies usually pay more attention in collecting suggestions to give the central government rather than the Hong Kong Special Administrative Region government.
Question: What is your hope for the future?
Answer: I am 76 years old now and I am planning to retire from the NPC. I hope I can have more time to write. I have written two books about the National Peopleís Congress system, and this year I will write the third one.
(By Liu Wenlong, china.org.cn staff reporter, March 10, 2002)