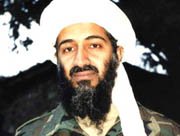 British special forces that stormed one of Osama bin Laden's mountain strongholds missed him by just two hours, according to military sources.
Sixty troops attacked the caves in the Hada mountains, southeast of the Taleban stronghold of Kandahar, with four British soldiers wounded in the fierce battle that erupted, Britain's Mail on Sunday reported.
It was the largest deployment of SAS troops in one battle since the war in Oman in the mid-1970s, the paper added.
"We were within a whisker of getting him. It was a hard battle and will have put the fear of God into his people," said a source close to the regiment. "When prisoners were questioned, it came out we had just missed [bin Laden] by about two hours."
Intelligence sources, cited by the paper, believe that bin Laden may have fled as the battle began.
"Bin Laden knows the SAS are not far behind," one source said.
The paper did not say when the raid took place, but British Defence Secretary Geoff Hoon said last weekend that four Special Air Service men had been wounded in a covert operation in southern Afghanistan.
Another British paper reported that the same SAS squadron was poised to lead another attack on an underground fortress in the east of Afghanistan to which the exiled Saudi dissident was thought to have fled.
They were preparing for an attack in the White Mountain region near Jalalabad, the Sunday Times said.
(China Daily December 3, 2001)