Traditional Temple Fair Impending for Spring Festival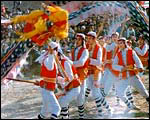 The 18th Longtan Temple Fair will be held between January 22 and 29 next year in Longtan Park to mark the Spring Festival of the Chinese nation.
Apart from the traditional Chinese folk art performances like Chinese opera, micro-carvings, mask drawing, clay figurines, the upcoming cultural event will also highlight Beijing's effort to host the 2008 Olympic Games and popularize science and technology.
All information about the temple fair is available at the website: http://1tmh.myweb.com.cn for visitors.
The Temple Fair is a traditional cultural event featuring all kinds of Chinese folk art. The fair is usually held around the Spring Festival and attracts thousands of visitors at home and abroad. So far, there have been more than 10 major temple fairs held each year in Beijing.
The Spring Festival, the lunar New Year, will fall on January 24 next year.
(People's Daily 12/24/2000)