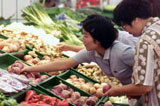 The 2002 "Meet In Beijing" Arts Festival, the third such annual event, is to be held from April 20 to June 3 in Beijing.
Co-sponsored by the Ministry of Culture, Beijing municipal government and the State Administration of Radio, Film and Television, the festival has evolved from various performing arts events with different themes over the past few years.
Its predecessors include the 1996 International Symphony Festival, the 1997 International Opera and Ballet Festival, the 1998 International Fine Arts Festival and the 1999 International Folk Song and Dance Festival.
Since 2000, the event has been expanded into a comprehensive festival with varied artistic forms. More than 100 arts troupes and exhibitions from across the world have been invited to the festival.
"It is our wish to let the West meet the East, history meet the present, the classic meet the popular and artists meet fans in the annual festival in Beijing," said Zhang Yu, director of China Performing Arts Agency, organizers of the event.
In the coming one-and-half-month event, most of the Chinese capital's arts venues will be packed with shows and exhibitions by about 30 performing arts troupes and 10 art exhibitions from Asia, Africa, Europe, Latin America and Oceania.
The following is a list of highlights of foreign performing troupes:
Musical "Tristan and Yseult," produced by Pierre Cardin at the Poly Theatre on April 23 and 24.
"Don Quixote," performed by the National Ballet of Cuba at Beijing Exhibition Hall Theatre from April 25 to 28.
Concert given by Greater Tokyo Symphony Orchestra at Century Theatre on April 29.
Tina Arena pop concert at Worker's Gymnasium on April 30.
A ballet show given by Tokyo Ballet Theatre at Century Theatre on May 8 and 9.
Modern dance performed by Austria Prantl Modern Dance Company at the Cultural Palace of the Nationalities on May 15, 16.
"The Merchant of Venice" performed by the Royal Shakespeare Company at the Poly Theatre from May 23 to 26.
Dance shows by the Spanish National Dance Theatre at Tianqiao Theatre on May 30, 31.
(China Daily April 11, 2002)