Thirty fishermen are set to sue ConocoPhillips and the China National Offshore Oil Corporation (CNOOC) for damages allegedly caused by a huge oil spill at an offshore field operated by the US energy company, China Youth Daily reported.
The oil spill at the Penglai 19-3 oilfield in north China's Bohai Bay, China's largest offshore oilfield, was first spotted in June. The oil has since spread to beaches in Hebei and Liaoning provinces. The tourism and aquatic farming industries in both Hebei and Liaoning have blamed the spill for financial loses.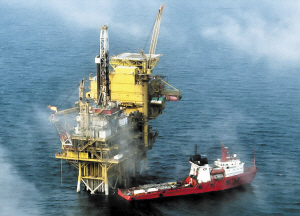 Fisherman He Yecai, 47, arrived in Beijing last week from a remote village in Muping District, Yantai City, Shandong Province. He is determined to seek redress from the company.
"How can ConocoPhillips pollute Chinese seas like this?" he asked. In May, He Yecai bought 20 million bay shell fish, which could produce 17,000 buckets of grown shells. However, He stated that, during June and July, most of the shells died, leaving him with only 3,000 buckets of shells. In addition, He lost 3 million Farrer's scallop shells, with only 60 out of 1,500 buckets surviving. Worse still, the surviving shells suffered from impaired growth.
He commented: "I could generate about 1.2 million yuan (US$188,599 ) in annual revenue in the past, but this year, I only made around 100,000 yuan."
Some fishermen have suffered even greater losses. As a result, the fishermen of Muping District have united to seek legal counsel from Beijing's Great Wall Law Firm.
There has so far been no comment regarding compensation for the fishermen from ConocoPhillips China, the U.S. oil giant's subsidiary, or CNOOC. The State Oceanic Administration (SOA) is now hiring lawyers to instigate legal proceedings, and a civilians' self-help campaign is also underway.
Lawyer Jia Fangyi has filed environmental pollution lawsuits against ConocoPhillips and CNOOC in maritime courts in Qingdao and Tianjin as well in the Superior Court of Hainan Province. The lawsuits are seeking damages of 10 billion yuan in order to establish an environmental restoration fund. Jia also filed a separate administrative lawsuit against CNOOC for nonfeasance at Beijing No.1 Intermediate Court.
Jia, along with his colleague Guo Chengxi, went to Muping District twice in both September and October to collect evidence. Representing the 30 fishermen, they filed a class-action suit against ConocoPhillips and CNOOC. Jia calculated that the fishermen have suffered total direct loses of 20 million yuan.
Jia's lawsuit, which was filed on November 18 in Qingdao Maritime Courts, demanded two things: that the defendants, ConocoPhillips and CNOOC, should pay 7.15 million yuan in compensation, and also assume all legal fees.
China's State Oceanic Administration said in a statement on November 11 that the oil spill resulted from management and production negligence on the part of ConocoPhillips. The statement went on to say that ConocoPhillips had violated the original protocol of exploitation and failed to take necessary precautions when there was a high risk of a spill.
For He Yecai and the other fishermen, the fight goes on. He said that this year has been the worst of his 11 years of growing shells. He acknowledged that, although difficult, his situation was still better than that of other fishermen. "At least I have some stockpiles," he said. "Those [fishermen] who took out loans to grow shells have suffered the most."