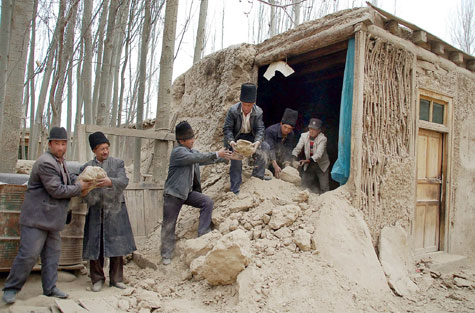 Local residents work to clear debris from a damaged house in Yutian County in southern Xinjiang Uygur Autonomous Region, after a 7.3-magnitude earthquake hit the sparsely-populated area yesterday morning.
At least a dozen earthquakes jolted Xinjiang Uygur Autonomous Region in China's remote northwest yesterday. So far, no casualties have been reported.
The first and strongest, 7.3-magnitude, tremor hit Yutian County, Hotan Prefecture, in southern Xinjiang at 6:33am. It was followed by at least 12 aftershocks measuring over 3.8 on the Richter scale.
A number of other minor quakes were also registered, according to the Xinjiang seismological bureau.
Four houses in Pulu, the nearest village to the epicenter in the sparsely-inhabited Kunlun Mountain region, collapsed during the first tremor, but the people who had been living there escaped without injury.
Residents of another 110 households in the village were evacuated to safety as of 4pm. The 190 families who had moved to quake-proof residences built by the local government over the past three years were unaffected, the local government said after an immediate field investigation.
The village temporarily closed its primary school although the building remained intact.
An expert at the forecast center of the seismological bureau said the quakes were unlikely to cause casualties since no one had been injured in the first one.
A Hotan official said the quakes mainly affected the townships of Aqqan and Bostan in Yutan and Qira counties. The total population in the townships is about 13,400.
The official said that power supply, telecom and traffic were mostly unaffected.
In 2004, the Hotan government launched a project to set up anti-earthquake houses for 356,000 families in five years to ensure safety in the quake-prone region.
More than 1.2 million people in 257,000 households had moved to new anti-earthquake buildings by September last year.
Dale Grant, a geophysicist of the United States Geological Survey, described the area as "very seismically active," and said yesterday's first tremor was the biggest there on record.
The last earthquake in the Hotan region was in 1992 and had a 5.9 magnitude.
A quake that hit western Xinjiang in 2003 had a 6.8 magnitude and killed 268 people in Bachu County.
Meanwhile, an earthquake measuring 5.0 on the Richter scale jolted the bordering region between southwestern China and Myanmar last night, according to China's Seismological Forecast Network.
The quake hit the bordering area between the Yingjiang County of Yunnan Province and Myanmar at 8:36pm.
The epicenter was initially determined to be 24.5 degrees north latitude and 97.6 degrees east longitude.
There were no immediate reports of casualties or damages from the tremor.
China's deadliest earthquake in modern history struck the northeastern city of Tangshan on July 28, 1976, killing at least 240,000 people. Its magnitude was measured at 7.8 to 8.2.
(Xinhua News Agency March 22, 2008)