Rescuers are preparing to dynamite the barrier of a swelling quake lake, which has posed a new threat after a devastating 8.0-magnitude temblor ravaged southwest China's Sichuan Province.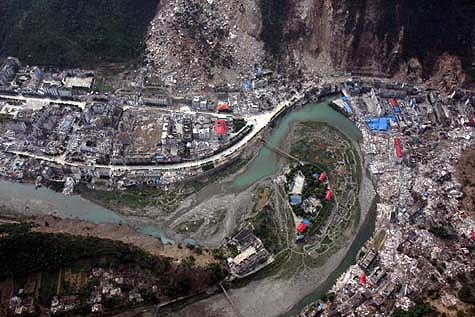 A view of Tangjiashan Lake is shown from above today. The lake, which formed after the May 12 earthquake in Beichuan County, Sichuan Province, is threatening thousands of quake survivors. Armed police officers and People's Liberation Army soldiers are expected to blast the barrier lake today before it bursts.
Helicopters had airdropped professionals and materials for the operation by 7:49 a.m. Monday onto the dam of the barrier lake at Tangjiashan in Beichuan County, which was formed by landslides that blocked a local river known as Jianhe after the May 12 earthquake.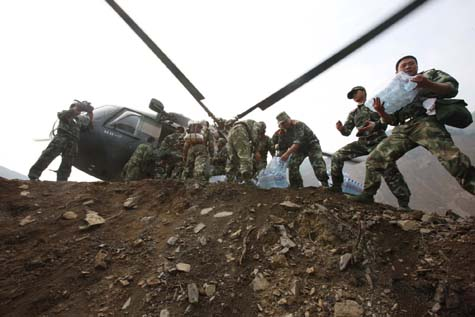 Soldiers load cases of water onto a helicopter this morning. The military plane carrying food, water and power generators took off at 8 am today to support soldiers who hiked to the road-blocked Tangjiashan Lake area yesterday. The lake formed after the May 12 earthquake in Sichuan Province and is threatening thousands of survivors. Soldiers are expected to blast the barrier lake today before it bursts.
Sunday's adverse weather hampered the operation, but the weather and visibility were fine on Monday morning, said a spokesman with the Mianyang Airport Headquarters for Quake Relief Flight Operation.
A Mig-26 helicopter had carried a large bulldozer from Leigu in the vicinity of Tangjiashan which could only be reached on foot currently.
As a backup operation, a group of armed policemen arrived on foot at the Tangjiashan lake area at 00:35 a.m. Monday and set to work immediately. They would assault the lake barrier in case bad weather and low visibility continued to hamper airdrop efforts.
The policemen were among about 1,800 armed police officers and People's Liberation Army (PLA) soldiers who started hiking on Sunday toward the swelling lake, some 3.2 km upstream from the Beichuan County seat, from which thousands of quake survivors have been evacuated since last Wednesday.
A PLA officer told Xinhua that the soldiers each carried 10 kilograms of dynamite and planned to carry out small scale blast to drain the swelling water.
The lake dam is in danger of bursting as the water level rose by nearly 2 meters on Saturday to 723 meters, only 29 meters below the lowest part of the barrier, which measured 752 meters high.
The risks were only heightened as high winds and thunderstorms were forecasted for the area on Sunday and Monday and the area was hit by a strong aftershock measuring 6.4 magnitude on the Richter scale on Sunday.
The lake is now holding more than 128 million cubic meters of water and may cause a devastating flooding if the barrier bursts.
Altogether 35 barrier lakes were formed by landslides after the May 12 earthquake, which has left 62,664 people dead and 23,775 more missing.
(Xinhua News Agency May 26, 2008)