China's State Flood Control and Drought Relief Headquarters said Thursday night it had launched a level-three flood control emergency response mechanism to cope with Typhoon Kalmaegi.
Tropical storm Kalmaegi escalated to typhoon level on Thursday and was expected to be reinforced and land the coast areas in east China's Zhejiang and Fujian provinces on Friday, according to the headquarters.
Chen Lei, deputy commander-in-chief of the headquarters, ordered local governments to start their emergency mechanism and make full preparations for the typhoon's landfall.
Fishing boats are moored at a harbor in Zhoushan, east China's Zhejiang province July 17, 2008. [Xinhua]
Meteorological, water resources, and transportation, and other related departments should closely monitor the situation and inform the public on time, said Chen.
Kalmaegi, the seventh tropical storm this year, is also expected to affect Shanghai on Friday and Saturday.
Under its influence, force 8-10 winds is predicted to blow on the sea off Zhejiang. Heavy storms are likely to hit the coast cities in Zhejiang, the provincial meteorological authority said Thursday.
It is also expected to bring heavy rain to Quanzhou, Xiamen and Zhangzhou in Fujian in the next two days.
The heavy rain would continue in Fujian until this weekend, according to the weather services.
Flood-control, offshore fishery and marine authorities in Fujian, Zhejiang and Shanghai have sent out warnings for early preparations against the storm. Ships and boats are advised to return to ports.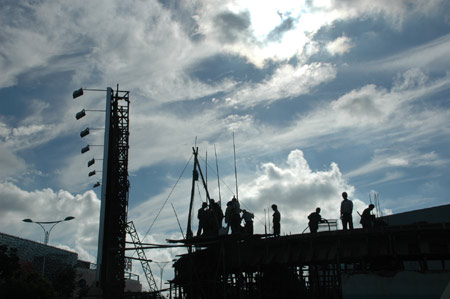 Workers speed up the construction work as the typhoon Kalmaegi approaches Taizhou, east China's Zhejiang Province, July 17, 2008. The storm is expected to hit the coast of Zhejiang province on Friday, according to Zhejiang Provincial Meteorological Observatory. (Xinhua Photo)
(Xinhua News Agency July 18, 2008)