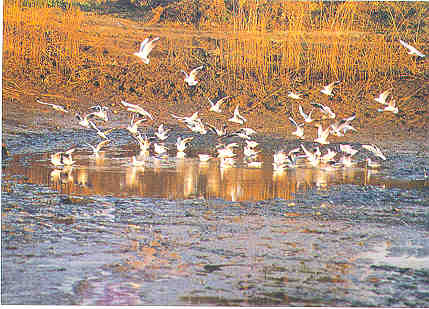 Chongming Island is home to thousands of migratory birds each year. [File Photo] 
About 50,000 migratory birds may not be able to find enough water and food this winter in a 24-square-kilometer wetland that has dried up on Chongming Island's east coast, bird conservationists warn.
Wetland manager Shanghai East Coast International Wetland Co Ltd is pumping water into the area, hoping to improve the habitat before the birds fly in on their annual migration in October.
In the past, fish and crab ponds were established in the wetland, which is part of the 326-square-kilometer East Coast Internationally Important Wetland.
But the artificial ponds threatened the wetland because the crabs had eaten most of the food, leaving little for migratory birds, said Qiu Zhonghong, general manager of the company.
Fish and crab feeding also caused pollution, said Qiu, so the company stopped renting the land to fish farmers six months ago.
The company plans to restore the wetland ecological system and provide a haven for migratory birds. So far, the first and second phases of the park, covering an area of 1.3 square kilometers, have been finished as a trial but are not yet open to the public, Qiu said.
"This shows the company's determination to protect nature, as we have given up huge economic profits," Qiu said. "When the park is built, more migratory birds will be attracted to the area."
Song Guoxian, director of the managing department of the reserve, said the dried wetland meant at least 50,000 wild ducks may be homeless.
He said it would be difficult to restore the original condition before October, when migration season comes, even if the river water was continuously drawn to the land.
"If birds don't find enough water and food in the area this winter, they won't come next season," he said.
He suggested forming a few ponds first as resting places for migratory birds.
Authorities said 312 bird species have been recorded in the wetland, with nearly 2 million migratory birds arriving every year.
(Shanghai Daily August 27, 2008)