At least 57 people have been killed and 1.27 million people relocated as rainstorms and floods ravaged nine provinces and region in south China, according to the Ministry of Civil Affairs and Guangdong Province on Sunday.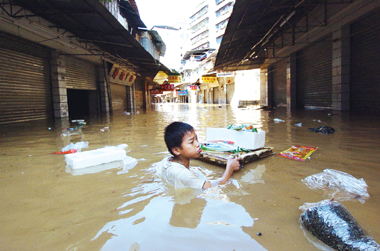 A child walks on a flooded street near the Beijiang River in Lechang City, Guangdong Province. Twenty people have been killed and eight are missing after floods swamped parts of the province. About 5.76 million homes have been flooded across Guangdong.
The Ministry of Civil Affairs said 55 people were killed and another seven people were reported missing as of 9 p.m. on Saturday. A total of 17.87 million people have been affected.
However, Guangdong reported two more deaths on Sunday, bringing death toll to 20 in the province and 57 nationwide. Eight others were missing and 5.76 million people in 17 Guangdong cities were affected, the provincial flood control and drought relief headquarters said.
The disaster damaged crops on 860,500 hectares of farms, including total crop failure on 90,200 hectares. It toppled down 45,000 houses and damaged 141,000. The direct economic loss stood at 10.61 billion yuan (1.53 billion U.S. dollars).
Rainstorms and floods have ravaged the provinces of Zhejiang, Anhui, Jiangxi, Hubei, Hunan, Guangdong, Guizhou and Yunnan and the Guangxi Zhuang Autonomous Region since June 6, the ministry said.
Guangdong was on full alert as floods in the swollen rivers of Xijiang and Beijiang were expected to converge in Foshan City on Monday.
Fourteen monitoring sites on the two rivers recorded water levels above danger lines, the headquarters said.
The Guangdong maritime bureau closed up the navigation routes in the Zhaoqing section of Xijiang and the Qingyuan section of Beijiang starting from 1:40 p.m. and 1:50 p.m. on Sunday respectively.
Heavy rain in the Guangxi Zhuang Autonomous Region triggered landslides, mud-rock flows and floods, affecting more than 6.8 million people and forcing the evacuation of 838,800, said the Guangxi civil affairs department.
Crops were destroyed and houses toppled down. Losses so far total 3.7 billion yuan, the department said.
In Hunan Province, nearly 2 million people have been affected and more than 260,000 had to be evacuated from Yongzhou City. Flooding occurred in all 11 counties and districts of the city, leading to the collapse of 15,000 houses.
There were no reports of casualties in Yongzhou, said the local flood control and drought relief headquarters on Sunday.
In Jiangxi, 3.87 million people have been affected and losses total 3.37 billion yuan. About 210,000 people were put to fight floods.
About 12,000 people stranded by flood have been rescued so far in Jiangxi.
The National Meteorological Center forecast more rains in southern parts of the country for the next few days.
(Xinhua News Agency June 16, 2008)