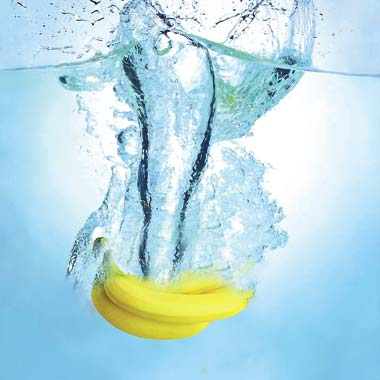 Traditional Chinese medicine says bananas are not a cure-all when it comes to constipation. [Shanghai Daily]
Many people swear by bananas as a laxative, but don't trust your gut reaction. Traditional Chinese medicine says bananas are not a cure-all when it comes to constipation. The bowels and their movement problems are very complicated, and all about yin and yang. In fact, there are six very different kinds of constipation, according to TCM.
Persistent constipation is caused by a variety of internal energy problems, requiring different treatments.
Excessive heat (yang energy), stagnant energy and insufficient energy or blood may all lead to constipation. Bananas, which are cool yin energy, are good for constipation caused by too much yang energy. But believe it or not, bananas don't help other kinds of constipation.
Which kind of constipation do you have?
Regular bowel movements are important for good health as they eliminate toxins in waste. Buildup of toxins is unhealthy as they can be reabsorbed. Bowel movements less than three times a week with a dry and hard stool is a sign of constipation.
Around 3 to 15 percent of the Chinese population suffer constipation, according to Yang Yuexin, chief of the Nutrition and Healthy Food Branch of the Chinese Nutrition Society.
More city people than rural people suffer constipation as it is linked to severe psychological pressure, fatigue, lack of physical exercise and insufficient water intake.
Persistent constipation may cause acne, facial discoloration, hemorrhoids and damage to the liver and intestines. Constipation in elderly cardiac patients can cause myocardial infarction or necrosis in heart tissue.
The two main causes of constipation are lack of fluid nourishment in the intestines and generally weak internal energy flow, making it difficult to move the bowels, according to Dr Gu Yun, chief physician of the Geriatrics Department of Longhua Hospital attached to Shanghai University of TCM. Problems of the spleen, stomach, liver and kidneys can contribute to constipation.
Excessive heat (yang energy) in the stomach usually causes intestinal dryness and makes it difficult to move bowels. Problems are also caused by insufficient energy in the spleen, stagnation of liver energy (this could cause "pathogenic fire"), insufficient kidney yin energy and generally insufficient yang energy.
TCM classifies constipation into six categories according to their different causes: excessive heat in digestive system, stagnation of energy flow, insufficient energy, insufficient blood, insufficient yin energy and insufficient yang energy.