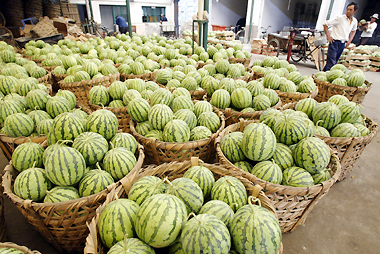 Watermelon is one of the most recommended fruits in summer as it can help dispel pathogenic heat. [Shanghai Daily]
Many people just dive into the fruit basket in summer, and juicy fruits help quench our thirst. But traditional Chinese medicine generally recommends "cool" or "cold" fruits that cool us inside.
Still, it's best not to eat fruits directly from the fridge, since the cold temperature can be upsetting.
Fruits, like all foods, are classified as "cold/cool," "neutral" and "warm/hot" according to their yin (cold) or yang (hot) energy.
In the West, there's a food "pyramid" for a balanced diet; in China there's a "balanced diet pagoda." It suggests that adults eat 100-200 grams of fruits and 400-500 grams of vegetables every day; those who eat fewer vegetables should add fruits.
"Cold/cool" fruits include apples, pears, oranges, bananas, persimmons, watermelons and kiwi fruits; "hot/warm" fruits include peaches, longans, litchi, and cherries; "neutral" fruits include pineapple, grapes, hawthorn and plums.
According to the balance of energy theory in TCM, "cold" fruits are usually recommended for the "hot" people, "Warm" fruits are recommended for "cold" people while "neutral" fruits are suitable for everyone.
Most people are "neutral" in energy. "Hot" people usually have a red tongue, get hot and thirsty easily and tend to get constipated. "Cold" people usually have a pale tongue, cold extremities, are often cold and suffer from diarrhea.
But in hot summers, "cold" (yin) energy fruits are usually better than "warm" (yang) energy fruits, according to Dr Xia Xiang, vice president of Shanghai Dietary Therapy Institute.
People in subtropical area, including Shanghai, often have headaches and feel irritable in summer.
Everyone is thirsty, of course. That's mainly caused by strong pathogenic heat and dampness dominating the universe and invading human bodies.
"Yang energy grows fast in human body along and in the universe in summer," says Xia. "That's why we need more 'cold' foods, including fruits, to rebalance the energy inside."
Those who have poor digestion and tend to have diarrhea, however, should avoid "cool/cold" fruits and those that are very sour.
Everyone, including ordinary healthy people, should avoid chilled fruits, though they taste better than room-temperature fruit.
The digestive system doesn't function as well in summer as in other seasons and cold-temperature foods may reduce gastric juices, leading to poor appetite and indigestion.
Some fruits should not be eaten on an empty stomach, including tomatoes, bananas, oranges, hawthorn and persimmon.
They contain tannin and organic acids that may irritate gastric mucosa and cause bloating.
Don't overdo it. Eating too much sour fruits may damage tooth enamel and irritate stomach lining. Too much sweet fruit adds calories and too much juicy fruit, especially melons, may dilute gastric acid and cause indigestion.
Peaches
Peaches are a "warm" fruit that can help reinforce energy, promote blood circulation, nourish yin, promote fluid production and act as a laxative.
Eating peaches often is recommended for those suffering energy and blood insufficiency, constipation and blood stagnation.
Avoid eating a lot of peaches if you have too much pathogenic internal heat, lest they cause stomach problems.
Infants and those with weak digestion should avoid the fruit.
A large molecule can be hard for infants and others to digest.
Watermelon
"Cold" watermelon is one of the most recommended fruits in summer. It can help dispel pathogenic heat, promote creation of fluid and act as a diuretic. Eating it regularly can improve metabolism and help treat high blood pressure and relieve edema and inflammation of the liver and kidneys.
It's high in beta-carotene and anti-oxidants.
It should be avoided by those with diabetes, chronic kidney problems and pathogenic cold in stomach.
Pineapple
"Neutral" pineapple benefits the spleen and stomach, promotes fluid, relieves edema and acts as a laxative and diuretic.
It is usually recommended to relieve heat stroke.
It can help patients with high blood pressure and kidney inflammation.
It helps prevent hardening of the arteries.
Though pineapple is suitable for most people throughout the year, some people are allergic and can suffer respiratory problems and rashes.
Soaking pineapple pieces in salt water for at least 10 minutes before eating can destroy the protease enzyme that causes allergic reaction.
(Shanghai Daily June 16, 2009)