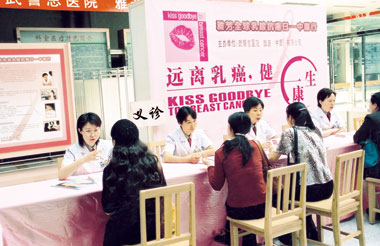 Doctors provide free consultation on breast cancer to women patients. [Shanghai Daily]
Although breast cancer has a high cure rate in urban areas, it costs a great many lives in rural areas.
To help the women in Deyang City in Sichuan Province, a program to establish a breast cancer network was launched in the city last month.
The program, with an investment of about US$5 million, will be completed in three phases within three years. It will help establish a medical network with a medical center that directly connects experts in Beijing, five branch centers, survey coaches and multiple sources for breast cancer information.
The Avon Foundation for Women, Give2Asia, GE Health Care and local government and medical institutions in Sichuan Province are behind the project. The Avon Foundation for Women donated US$1 million needed for the first phase which is in process now.
The number of breast cancer cases has increased sharply in China in the last century, according to Dr Wang Guotao, vice secretary-general of the China Breast Cancer Foundation. The death rate is especially high in rural areas.
"Most breast cancer patients in large cities can be cured, but it costs almost 50 percent of patients' lives in rural areas as they are usually diagnosed late and cannot get proper treatment in time," says Dr Wang.
A report by Give2Asia shows that the occurrence rate of breast cancer increased sharply in Deyang City in recent years. There are about 12,000 new cases in the area each year, while more than 400 die from it annually.
Medical facilities in Deyang are relatively poor due to last year's earthquake as well as some historical reasons. There is no special department for cancer among all the 400 medical institutions, and none is able to carry out breast-saving surgery.
To change the situation, the "Deyang City Breast Cancer Prevention and Cure Network" project was launched on July 23.
It will include the establishment of advanced breast cancer centers in six hospitals in the quake-stricken areas, including Deyang City People's Hospital, Mianzhu City People's Hospital and Guanghan Central Hospital.
The Deyang City People's Hospital will be the base, with links to breast cancer experts in Beijing, while the other five hospitals will provide medical care for more people relatively far away from the base. In addition, three survey coaches traveling through villages will help check and diagnose women more efficiently and in time.
Apart from getting instructions from experts in Beijing for difficult cases, the program will also train about 400 local breast cancer doctors and technicians.
Some 40 lectures and on-site consultations and 200,000 brochures will help popularize knowledge about preventing and curing breast cancer.
The program is estimated to provide reliable medical services for at least 100,000 women a year when completed.
"We hope that our donation will help the women in the stricken regions gain better medical care while rebuilding their homes," says Carol Kurzig, president of Avon Foundation for Women.
(Shanghai Daily August 5, 2009)