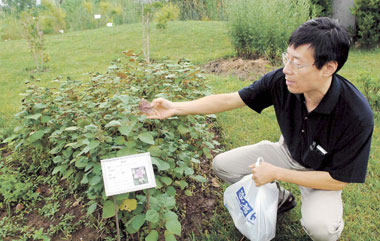 Qian Hai, a professor from the Shanghai University of Traditional Chinese Medicine, introduces zisu, or perilla, at the Bai Cao Yuan (Hundred Herbs Garden), a herb-planting base attached to the Shanghai University of TCM. [Shanghai Daily]
Chen Limei is thrilled to find tiny red berries when she waters her herb garden in the morning. It's the first time she has ever seen fresh plump gouqi or wolfberries on the plant, not dried and packaged in plastic.
Even better, she's growing her own herb (lycium barbarum) that's venerated in traditional Chinese medicine as an overall tonic.
It's loaded with anti-oxidants, strengthens eyesight and is good for just about everything.
And she grows it organically in her big clay pots, along with other prescribed herbs in other pots on her balcony in Zhangjiang Town in Pudong New Area.
Chen is part of a trial grow-your-own program started in May by the Shanghai University of Traditional Chinese Medicine and its technology development company.
It provides TCM screening and prescription and provides around 50 easy-to-grow herbs as seedlings, priced from 5 yuan to 80 yuan (73 US cents to US$11.70).
There are simple instructions, though gardeners will need to buy additional organic soil. Some gardeners plant in pots and window boxes, others have small plots of ground.
Volunteers will visit and advise on growing, harvesting, storing and preparing different dishes, teas, infusions and soups in different seasons.
Experts are recruiting households - 60 Chinese families so far - to grow healthful herbs at home. Eight expat families have applied to join.
"Many people care about their health and also love potted plants, so why not combine the two by planting something healthy?" says Qian Hai, general manager of the company.
He is also a professor at the TCM university.
"It's fun to plant something that you can use," says the 52-year-old. "I used to grow green onions in pots, but there's a greater sense of satisfaction in growing a herb for good health. I can't wait to harvest and taste the berries."
Most TCM pharmacies only sell dried herbs because they can't store fresh ones, but some herbs are most effective when fresh, such as mint, reed root and ageratum (floss flower), says Qian.
Growing your own herbs for diet therapy can ensure they are fresh, clean and safe.
Adding appropriate herbs to the diet for different people in different seasons is healthier than taking a generic TCM pill.
In this grow-your-own program, a TCM doctor will diagnose a gardener's (and her or his family's) constitution and health issues and prescribe appropriate herbs.
For example, "hot" people (with excess yang energy) may need cooling, yin-energy chrysanthemum. "Cool" people may need warming jujubes, people with weak digestion may need dendrobe and women with menstrual problems or cramps may need motherwort; lingzhi (ganoderma or reishi fungus) boosts immunity.
In this warm summer, when swine flu is a concern, Qian recommends wild chrysanthemum and honeysuckle to boost immunity and dispel pathogenic heat.
According to a survey by the TCM hospital, many people are interested in the problem but fear they don't have "green thumbs" and cannot succeed as gardeners.
"Certainly some herbs require a special environment and cultivation but many can be grown successfully with very little care, like any ordinary plant," says Qian.
Many herbs have been grown by the Shanghai University of TCM in its Bai Cao Yuan (Hundred Herbs Garden) for years in domestic herb-planting trials.
Herbs like chrysanthemum, mint, fennel, honeysuckle, wolfberry, dendrobe, motherwort, perilla and many others are on the list.
Bad-smelling plants and those with intoxicating properties are not on the list. Woody plants and perennials are recommended as they grow for years and provide good value.
Information is provided but gardeners should read up on their plants. For example, wild chrysanthemums don't need much water, and pinching off extra buds will help the plant grow stronger with more flowers. Wolfberry naturally withers in summer to reduce water loss, but it doesn't die.
Don't use chemical herbicides or pesticides.