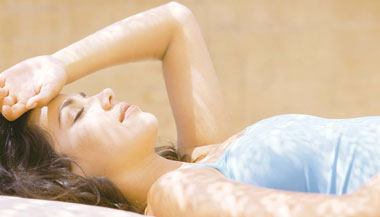 A nap of up to an hour at midday is recommended, if you can manage. [Shanghai Daily]
Last week Chu Shu (end of the heat, the 14th of the 24 solar terms) marked the end of summer. Now the strong yang energy in the universe is beginning to fade.
TCM recommends getting one more hour of sleep, drinking more water and eating moistening foods to maintain health and keep your body's energy in sync with cosmic energy.
Chu Shu on the Chinese lunar calendar usually falls around August 23. Temperatures usually remain high for around 18 days before it starts to cool off south of the Yangtze River, according to Qing Jia Lu by Gu Tieqing in the Qing Dynasty (1644-1911). The book describes the culture and customs in Suzhou, Jiangsu Province, and nearby areas.
At this time of year, the yang energy in the universe begins to descend from its peak while yin energy starts to grow. Accordingly, the yang energy in the human body also starts to decline. Thus, at least another hour of sleep is recommended.
Though ancient Chinese wisdom calls for taking a nap whenever you feel sleepy after Chu Shu, in these times it's not possible to just nod off when you feel like it. A nap of up to an hour at midday is recommended, if you can manage.
Getting good quality sleep at zi (11pm-1am) and wu (11am-1pm) is important for health.
The yin and yang energy in the human body will shift along with energy changes in the universe.
Yang begins to dominate in zi while yin starts to dominate in wu, so deep sleep is important.
Regular physical exercise can help relieve fatigue in this season. Keeping plants in your room can improve oxygen content and relieve fatigue. Bracken, balata and asparagus fern are recommended.
The end of summer also means that "pathogenic dryness" is increasing in the universe and can invade the body, consuming fluid and causing dry skin, itchy throat and other problems.
Drink lots of water, not just when you're thirsty. It's recommended to drink an additional 1,500ml of water a day.
TCM also recommends eating foods that moisten the system and nourish yin energy, such as white fungus, turnip, sesame, walnuts, lily, apples and pears. Sour foods like hawthorn are recommended.
Though temperatures may still be hot, extremely "cold," yin-energy foods like watermelon and bitter cucumber are not recommended because they can damage the declining internal yang energy.
Wear warmer clothes when you go out at night to protect your yang energy. Close doors and windows to avoid drafts and make sure your tummy is covered and warm to protect against pathogenic energies.
Season's recipes for healthy living Sesame spinach
Ingredients: Spinach (500g), cooked sesame (15g), salt, sesame oil
Method: 1. Wash spinach, place it briefly in boiling water (blanching).
2. Pull it out, drain and cool.
3. Add salt, sesame and sesame oil.
Benefits: Aids liver and kidneys, moistens organs.
Green pepper and bean curd
Ingredients: Box of bean curd, three green peppers, parsley (10g), salt, sesame oil
Method: 1. Blanch bean curd, drain it and cut it into cubes.
2. Blanch green peppers, drain, chop.
3. Chop parsley.
4. Combine ingredients with sesame oil and salt.
Benefits: Reinforces energy, promotes fluids, nourishes organs and dispels pathogenic heat. Treats loss of appetite.
Lily and lotus seed soup
Ingredients: Dried lily (100g), dried lotus seeds (75g), rock sugar to sweeten (75g)
Method: 1. Wash ingredients, soak lily in water overnight, soak lotus seeds in water for four hours.
2. Combine in a saucepan with water, bring to a boil, add sugar and simmer for 40 minutes.
Benefits: Nourishes heart, spleen and stomach; soothes nerves.
(Shanghai Daily September 1, 2009)