U.S. Democratic presidential hopeful Barack Obama's overseas trip scored big points back home as he gained Monday in poll ratings against Republican opponent John McCain.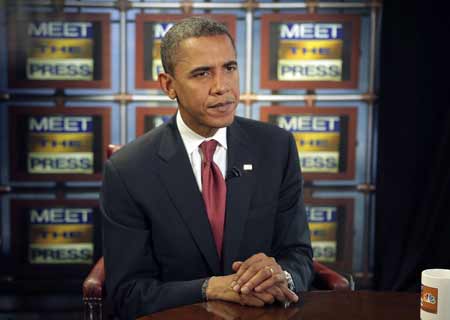 U.S. Democratic Presidential candidate Senator Barack Obama (D-IL) is interviewed during a taping of "Meet the Press" in London July 26, 2008.(Xinhua/Reuters Photo)
Latest CNN poll of polls suggests the Illinois senator has doubled his lead over McCain, a senator from Arizona.
Obama now holds a 6-point lead in CNN's average of national polls, 45 percent to 39 percent, up from the 3-point margin over McCain he held by the end of last week.
The results suggest Obama's trip, which was extensively covered by the national and international media, may have given the Illinois senator a sizable bump in the polls.
"There are early indications that Obama has received a boost from his trip to Europe and the Middle East," said CNN Senior Political Researcher Alan Silverleib.
"The key question, however, is whether or not Obama has eroded McCain's advantage on the issues of national security and foreign policy. If McCain loses that edge, his road to victory in November will become much tougher," he said.
(Xinhua News Agency July 29, 2008)