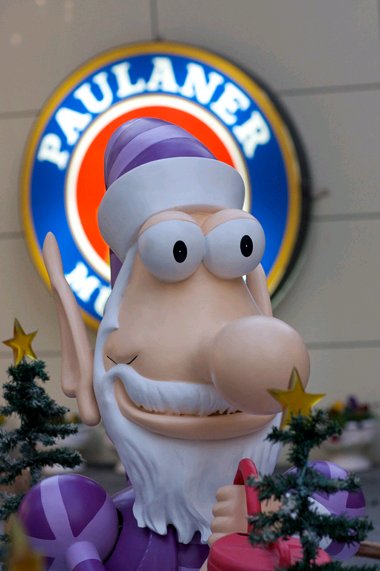 Christmas is almost upon us once again and the city rapidly is transforming into a cavalcade of lights, entertainment, fun and excitement.
Christmas is a time for sharing, and there are lots of festive events and celebrations to enjoy around the city.
Christmas trees lit up at Xintiandi and Shanghai Times Square this week to kick off the festive season, opening the door on a series of shows, children's choir performances and a mannequin sculpture exhibition.
This year marks the seventh season for year-end festivities at Xintiandi where dazzling lights danced their way up and around a 16-meter-tall Christmas tree, sending flickers of light sparkling against a majestic purple background.
Under the tree, children can expect to find exquisitely wrapped presents such as brave nutcracker, an adorable teddy bear or a gallant wooden horse.
All the presents and magical decorations along the old shikumen (stone-gated) alleyways are the handiwork of the fantasy cartoon character Elfun family who have quietly populated Xintiandi to spread love and fairy dust and create a magical world.
At the entrance to the North Block, Papa Elfun can be found conjuring up magical chocolate. Once the magic ingredients have been sprinkled into the pot, he can't resist dunking his fingers into the chocolate. Keep walking and visitors will find the Elfuns delivering Christmas gifts.
Landing on the shikumen roof is the legendary XintianDeer. He has been seeking new heights in his Xtreme Deluxe Sleigh, gathering the most spectacular gifts from whimsical, magical factories throughout the universe.
Magicians and accordion musicians will also perform during the festive season.
Starting this weekend, Xintiandi will also present a series of spectacular outdoor performances. The holiday programs include winter boogie, a dance sequence dating back to the 1920s; a children's Christmas choir and a heartwarming family play "Come Home for Christmas."