Members of Shanghai's American community gathered at a range of functions around the city yesterday to watch history being made with the election of Barack Obama to the presidency of the United States.
More than 300 people attended a US Consulate General election watch party at the Hilton Hotel.
Popular American bar Malones also hosted a large pro-Obama crowd at a morning breakfast function.
At the consulate event, many people stood and cheered, some wiped away tears and others rang home when Obama was declared America's new president at midday.
Consul General Beatrice Camp told the crowd that their country had witnessed a "remarkable campaign" that has come to a "dramatic and historic ending."
"We are watching a historic event with the first African American to assume the presidency," she told the crowd. "There was a time in America's history when this would have seemed unthinkable, but this has been a watershed for our country."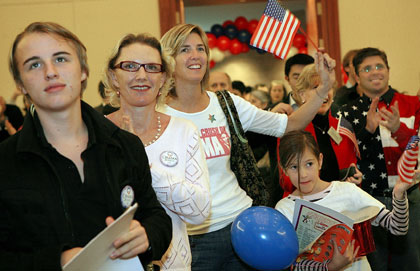 Americans attending a vote-watching party yesterday morning celebrate the election of Barack Obama as the 44th president of the United States — and the first African American ever to win the post.[Shanghai Daily]
A spokesman for the consulate said more than 3,000 Americans had lodged their absentee voting ballots with the consulate. In cooperation with a Fedex-supported program, these ballots were then sent to district voting offices across the US.
There are more than 20,000 Americans living in Shanghai, and those who voted in the 2008 presidential campaign could not vote in person at the consulate but only by mailing their absentee ballots to their home voting district.
At the Hilton party, people wearing Obama badges outnumbered McCain supporters. A straw poll showed that 120 supported Obama and 19 McCain, with one independent.
Among the group, Susan Kreuer said she was a life-long Republican before the 2008 campaign. Originally from Delaware, she had been a delegate at the 1976 Republican National Convention and worked for a Republican governor and congressman. Saying the Republican Party had moved too far to the right, Kreuer noted that the selection of Alaska Governor Sarah Palin as Senator John McCain's running mate had "sealed the deal" when deciding her vote for the Democrat.
Speaking before the vote, Marcus Leach, an African American, said his family in Missouri doubted Obama could win.
"Everyone at home never believed that this could happen in their lifetime," he said. "My grandmother is 90 years old, and she still cannot believe that this could happen."
Describing what a win for Obama would mean for African Americans, Leach said Obama was the product of "a lot of sacrifices that have gone before him," and an Obama win would be the "dream of the civil rights era."
Hawaiian Dorette P.S. Luke attended the same high school as Obama and said she wanted to be part of an election party as a winner.
"I voted for my first president when it was Carter and Ford, and I have never voted for a winning president, so I had to be here," she said.
(Shanghai Daily November 6, 2008)