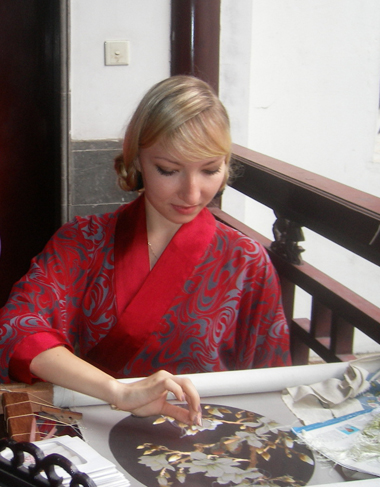 Many of Shanghai's foreign and local university students recently discovered an enchanting place to experience the magic of Chinese traditional culture - Jingsi Garden in nearby Wujiang City, Jiangsu Province.
The largest private garden in the southern Yangtze River Delta region was chosen as the extracurricular study base for Shanghai's 24 universities hosting foreign students. They include Fudan, Shanghai Jiao Tong, Tongji, and Shanghai International Studies universities.
Representatives from six universities and 20 foreign students from East China Normal University visited the garden on November 1 and tried their hand at calligraphy, silk weaving and other classical Chinese arts and crafts under the guidance of professional instructors.
The students also enjoyed a performance of guzhen, a traditional zither, and Suzhou dialect storytelling - storytelling to music is known as pingtan.
The garden also provided lectures on tea culture.
"I liked the white tea so much when we tasted different kinds of tea. The tutor gave me a pack of wonderful tea leaves which my whole family will get to try," says Bayan Aigerim, from Kazakhstan.
Nguyen Hai Ngoc, from Vietnam says: "Jingsi Garden gave me a vivid picture of the classical Chinese lifestyle. I think I captured a piece of China's profound wisdom and that is just what I wanted during my studies in Shanghai."
Chen Tianhong, manager of Jingsi Garden, promised that the garden would add more traditional elements in the future. "We will continue offering lectures or courses on stone culture, Chinese gardening and architecture. Jingsi Garden will supplement the book knowledge offered by university education. We intend to help foreign students better understand Chinese culture," he says.
Jingsi Garden, about 1.5 hours' drive west of Shanghai, opened to the public in 2003.
Local entrepreneur Chen Jingen originally came up with the concept for the garden has turned his dream into reality with the help and design work of Tongji University and the Suzhou Landscape Architecture and Design Institute.
The garden, also known for its stone collection, covers four hectares and features a teahouse, pavilions, and towers.
(Shanghai Daily November 12, 2008)