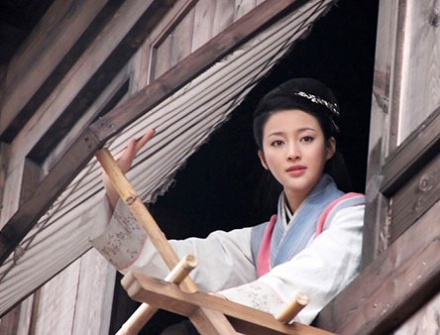 Pan Jinlian in the latest remade TV series of Chinese classic "Water Margin" [Shanghai Daily]
When Zhang Haixia, Associate Professor at China's Judicial College of the Ministry of Justice, labeled Chinese women studying overseas as morally corrupt, he provoked a storm of controversy.
If he had left it there, he may have avoided wider condemnation. However, he went on to suggest that when these students returned to China, they become like Pan Jinlian. Depending on your viewpoint, Pan Jinlian was either a sexually liberated woman or the adulterous female who featured in Shi Nai'an's famous Chinese novel, Water Margin.
A number of netizens, including social commentator and human rights defender Professor Yu Jianrong, circulated the video of the offensive words on the Internet. Fierce criticism of Zhang followed. However there were also more than a few surprising words of support.
The comment that Zhang's remarks may have been "taken out of context" is a legitimate one. The full transcript of the lecture may reveal a deeper purpose than the hurtful, throw-away lines broadcast online. But even so, his insistence that all female students who go to study in a romantic country such as France return to their homeland 'debauched' stretches credibility to breaking point.
It is true that the French, and indeed most of the western world, have a different attitude to dating and sex than the majority of Chinese, but there are many things that are socially, culturally and morally acceptable in one country that are not in the next. Each nation has evolved in different ways, moulded by their inhabitants' unique beliefs and expectations.
In the West and the Middle East sexual behavior is often guided by an individual's religious convictions, whilst in China it is more likely to be guided by social and cultural influences.
As foreigners in a new country, Chinese female and male students will be exposed to a very different way of life to the more traditional or conservative existence they may be used to at home. However that does not necessarily mean that they will embrace-or even accept-the alternative lifestyles they encounter abroad.
Do people return home Jewish if they visit Israel? Drive on the left when back in Beijing once they've been to Britain? Play football brilliantly if they go to Brazil? No, of course not. So why would women suddenly become sexually promiscuous if they study in France? Such a view passes unfair judgment on both China's youth and French ethics.
France is often described as a romantic country. Although it has a romantic language, and an artistic and literary heritage that oozes sex-appeal, the modern day reality is somewhat different. Anyone who has been to Paris soon finds that the tree-lined boulevards where lovers walk hand-in-hand are vastly outnumbered by characterless apartment blocks where disenchanted youth, plus disenfranchised local and immigrant populations, live a less than harmonious existence.
In such circumstances, Chinese students, male and female, are more likely to concentrate on their studies than pursue some sort of sexual marathon. Having met with some of these students whilst in Europe, Australia and America, I would respectfully suggest the vast majority are a credit to themselves, their families, their country and no more Pan Jinlian than their peers studying here in the People's Republic of China.
The author is a communications professional, film maker and published writer with a keen interest in life.
Opinion articles reflect the views of their authors, not necessarily those of China.org.cn.