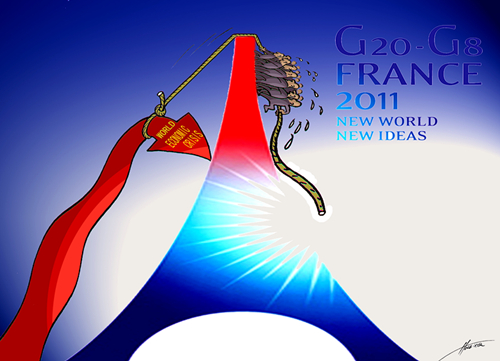 Finding a solution [By Hou Xiaoqiang/China.org.cn]
The G20 summit opened on Thursday in southern France's coastal resort Cannes. As the host country, France set three main topics for the summit: reform of the international monetary system, market-monitoring of raw material prices and global governance. But given the current situation, how to save the eurozone from collapse is the top priority.
Although the European Union has provided Greece debt relief and launched the European Financial Stability Facility (EFSF), the programs need time to take effect. At this critical moment, Greek Prime Minister George Papandreous announced a referendum on the eurozone's latest rescue plan scheduled for Nov. 1. Seemingly, Papandreous is afraid of angering the public. After all, the price for the rescue plan is very high. Greece must adhere to tight fiscal policy, lay off public servants, raise taxes and cut salaries and pensions. It's a perfect time for him to bring out this drama. And now the bailout for Greece has been elevated from a job of the EU to a job of the world.
If the Greeks say no to the rescue plan, it will trigger a chain reaction. Thus, how to prevent Greece to default is the challenge in front of all G20 leaders.
Another concern is stabilizing commodity prices. The bubble caused by the quantitative easing of U.S. dollars has caused commodity prices to fluctuate sharply and worsened the turmoil in global markets. Italian Prime Minister Silvio Berlusconi has called on G20 leaders to adopt policies to counter speculation in his open letter last year. The Cannes Summit brings this topic at the agenda for first time. And the key to this issue is reducing price manipulating and standardizing commodity transactions.
As the largest developing country in the world, China hopes to do more at the summit. But on stabilizing international currency, what China wants to do is not really to the U.S. liking. The U.S. wants a stronger and totally flexible Yuan. But China hopes to keep its currency stable, which benefits the global economy. As for China's role in any bailout for the eurozone, it should do something within his power, such as buying EFSF bonds. Those helped should show their sincerity in return and do something on issues like China's market status.
Topics negotiated at G20 summit are difficult issues. And one country's favorite usually is another's headache. All parties need to keep the big picture and mutual understanding in mind as they discuss solutions to the financial crisis. Although it's hard to produce a plan that can please everyone, progress can be made by understanding each party's claims.
This post was first published in Chinese and translated by Li Shen.)
Opinion articles reflect the views of their authors, not necessarily those of China.org.cn.