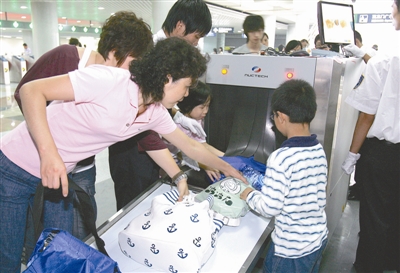 Passengers take bag-scanning in a subway station in Beijing. [File photo]
Recently, in a moment of extreme boredom, I positioned myself beside the security check at Yonganli subway station in Beijing and set about observing the safety squad in action. It wasn't long, however, before I noticed some potential nutters slipping through the cracks. Part of me wanted to step forward and treat the crowd of security personnel to a collective tap on the shoulder, or at least a quizzically raised eyebrow, when they waved through a Chinese chap with a sheathed sword (possibly of the Samurai variety) under his arm. In quick succession, all allowed through without so much as a questioning glance, came a high school student with a massive hand-held drill, a fruit and/or vegetable salesman with a sharply-hooked balance, and a construction worker with a bucket full of hammers. That's when my desire to give the so-called security staff a benevolent tap transformed into the somewhat darker desire to vigorously shake the lot of them.
Security checks were first instituted during the Olympic period, then reappeared as a permanent feature of every Beijing subway station during the 2009 New Year holiday. Since then, the simple process of getting down to the platform has become a chore. Especially during rush hour, when large numbers of stressed individuals are funnelled into a narrow tube beside the X-ray machine, tempers get frayed en masse and people naturally start to question the necessity of the security checks.
Of course, if the checks were actually seen to promote safety in practice rather than merely in theory, we might not read about frustrated commuters beating the living daylights out of security personnel every week or so. Though I certainly do not advocate violence against employees of the underground – as witnessed by the fact that I didn't actually shake anyone during my hour-long observation in Yonganli station – it's understandable why already stressed-out subway users might lose their rag when they spot the guy or girl who's supposed to be monitoring the X-ray screen instead chatting to equally disinterested colleagues, messaging chums on mobile phones, or simply drifting into the realms of a happy daydream.
It also seems, on occasion, that security personnel possess the common sense of a mongoose when it comes to defeating potential security risks. A few days ago, as I marched into Guomao subway station, I noticed the guy beside me carrying a big brown box that read "LENOVO." Perhaps I'm a tad paranoid in this era of explosions and atrocities, but I immediately tagged it as a potential terrorist threat. Strangely, though, the security girl stayed right where she was as Big Brown Box Guy shimmied happily through the barriers. When I asked the uniformed young lady why she had failed to X-ray the box, she told me there was no need: it was, after all, just a computer. I guess she only asks subway users to put huge boxes through the scanner when they read "EXPLOSIVE" or "WARHEAD" on the side.
Then there's the issue of people being happily ushered through when they only unzip one compartment of a sizeable bag. Half the time, when commuters open a section of their bag to be viewed, the security person is looking the other way. In fact, you don't even need to make such a token gesture of compliance. You can either put your rucksack or satchel in a plastic bag (which seems to exempt it from scanning), or just walk really quickly past security and pop through the barriers as they shout ineffectually behind you. The security system isn't really top notch when it can be defeated by slightly increasing your foot speed.
Am I advocating stricter controls on the subway, similar to those passengers have to go through at airports? Of course not. That would make the subway system even slower and less convenient. In truth, I'd be more than happy if the whole pointless security system was done away with. After all, what's the point of spending time and money on a security check that doesn't actually check anything? Beijing commuters long ago realized that the current procedures create the illusion of safety, rather than providing the real thing. No wonder violence flairs at the bag-scanning station on occasion.
Rob Hemsley writes and hosts Reel China, an online show about Chinese movies, at China Radio International.
Opinion articles reflect the views of their authors, not necessarily those of China.org.cn.