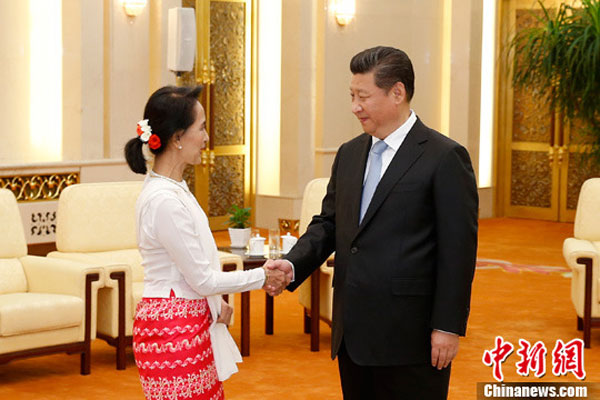 Chinese President Xi Jinping (R) meets with a delegation from Myanmar's National League for Democracy (NLD), headed by NLD chair Aung San Suu Kyi, at the Great Hall of the People in Beijing, China, June 11, 2015. [Photo/CNS]
On June 10, 2015, Aung San Suu Kyi, the current leader of Myanmar's opposition party, the National League for Democracy, came to China with a delegation and commenced her "ice-breaking journey" in China. A delegation of the National League for Democracy also visited China last year to participate in extensive and in-depth discussions with Chinese officials, which achieved many substantial results. Aung San Suu Kyi's visit to China reflects the wide scope of China's party diplomacy.
Since democratic reforms began in Myanmar, the Communist Party of China has maintained friendly exchange and relations with various parties in Myanmar. As a member of Myanmar's Parliament, Aung San Suu Kyi can also accept an invitation from the National People's Congress of China, making the visit a kind of parliamentary diplomacy. Both party diplomacy and parliamentary diplomacy are important parts of a country's overall diplomacy. They are complementary to government diplomacy and reinforce the foundation of stable relations between countries.
Aung San Suu Kyi has a strong reputation in the international community and is highly respected in her own country. The experiences of her personal life show that Aung San Suu Kyi has a broad international outlook that allows her to develop objective and rational ideas about international relations. If there are no major changes, Aung San Suu Kyi is bound to have an important position in Myanmar's political architecture after national elections this year, regardless of who becomes the next president of Myanmar.
At that point, the international reputation of Aung San Suu Kyi will be even more relevant to her governing philosophy and policy preferences than the role of either Myanmar or herself in the international community. That is to say, the biggest challenge that she'll be faced with is to effectively deal with domestic issues during the nation-building process.