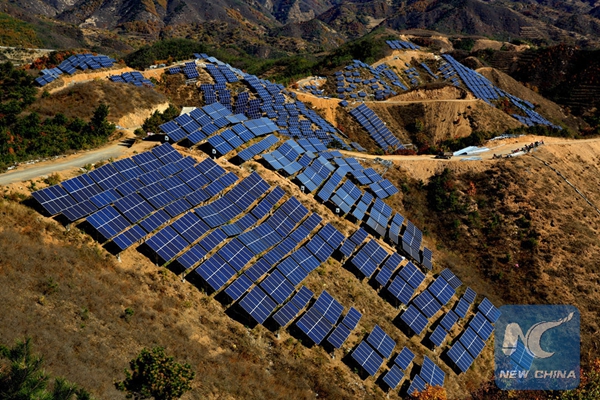 A solar power field is seen in Qinhuangdao, north China's Hebei Province, Oct. 28, 2015. [Xinhua]
The annual meeting of the Group of Twenty (G20), representing the most powerful economies in the world (comprising 19 individual countries and the European Union) is set to be held at Hamburg, Germany's port city on July 7-8.
While the rotating presidency belongs to Germany this time, and Chancellor Angela Merkel is set to lead the deliberations, the Hamburg summit will see world leaders such as American President Donald Trump, Chinese President Xi Jinping, Russian President Vladimir Putin, Indian Prime Minister Narendra Modi, and French President Emmanuel Macron, among others.
Apart from two-day summit-level meeting, G20 provides opportunities for a number of bilateral dialogues, such as Trump-Xi, Trump-Putin, Modi-Xi, on pressing bilateral and regional issues.
Yet, the main thrust will be related to issues of global governance. Amid rising protests on issues of trade, refugee crisis, American withdrawal from the climate accord and disturbances triggered by Brexit and Trump's "America First" approach, G20 is expected to provide direction and leadership on multiple global governance challenges.
Given Hamburg G20 summit is first for Trump, who has already created plenty of controversies on climate change, trade and refugee issues, there is growing uncertainty among world leaders as to how the Hamburg summit will shape up.
While Germany has listed 15 agenda items, many more issues involving the health of world economy, multilateral cooperation, rising global conflicts involving human security will surely crop up as the meeting progresses.
One pressing issue G20 leaders can hardly ignore is the global battle against climate change. The Trump administration's shocking pullout from the Paris Climate Treaty last month has dealt a body blow to this fragile accord that took several years to fructify. While thankfully the accord still enjoys overwhelming support from the world community, yet given America's massive role in climate issues (apart from being the second largest polluter today and biggest historically) involving finance and technology, there is growing anxiety among major stakeholders that the world may lose the battle against rising climate threats.
Thus, the Hamburg G20 meeting assumes even greater importance as it is the most appropriate global forum to deal with issues pertaining to climate change as it can build pressures on Americans and any other fence sitters to stop playing politics and take climate threats seriously.
Given the American president's mercurial behavior, German Chancellor Merkel, as current G20 chair, has made it clear, in a veiled message to Trump, that the key goal has to be to "further the goals of climate accord." Calling upon the leaders of European Union to show greater leadership and purpose on climate change, Merkel has been courting other key leaders of G20 such as Canadian Prime Minister Justin Trudeau and Chinese President Xi Jinping to provide much needed actions to block possible American disruptions.
She has said: "Since the decision of the U.S. to quit the Paris Agreement, we are more determined than ever to make it a success. We must tackle this existential challenge, and we cannot wait to ensure every last person on Earth has been convinced of the scientific proof."
President Xi is making a state visit to Germany to coincide with the G20 meeting. Apart from global issues such as trade and the Belt and Road Initiative, one can expect Xi and Merkel to chart a climate agenda and make some major announcements in this regard.
One possible concrete measure the G20 could take to further strengthen the global fight against climate change is in fossil fuel subsidy reform, promoting moves towards climate risk insurance and development finance towards low carbon and climate resilient infrastructure.
Technology transfer and finance are other key issues that can receive a fillip from the Hamburg summit. On the other side, it offers a platform for individual nations such as China, India and Canada to announce their action plans on climate change as part of a rising global initiative on climate change and sustainability issues minus America.
In short, the upcoming meeting of G20 – a platform of world's most powerful economies – offers real chance to initiate renewal on climate change and arrest the slide that has begun due to Trump's sudden withdrawal.
Niranjan Sahoo is Senior Fellow, Observer Research Foundation, New Delhi.
Opinion articles reflect the views of their authors, not necessarily those of China.org.cn.