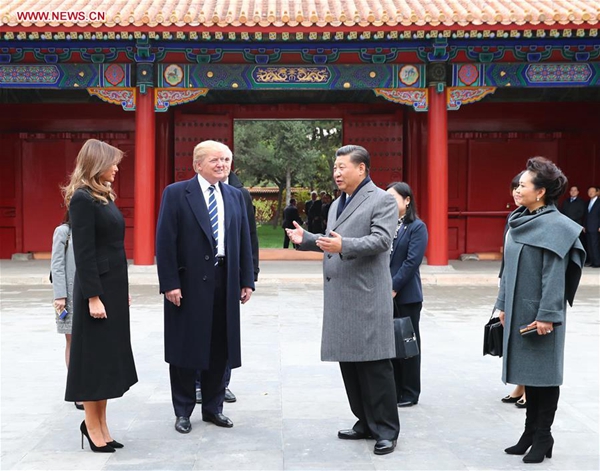 Chinese President Xi Jinping (2nd R) and his wife Peng Liyuan (1st R) welcome U.S. President Donald Trump (2nd L) and his wife Melania Trump at the Palace Museum, or the Forbidden City, in Beijing, capital of China, Nov. 8, 2017. They had an informal afternoon tea in the Baoyun Building, also known as the Hall of Embodied Treasures, in the southwestern corner of the Forbidden City. [Xinhua/Xie Huanchi]
Approximately one year after the 2016 U.S. presidential election, President Donald Trump visited China for the first time. This was his third face-to-face meeting with his Chinese counterpart Xi Jinping – after Mar-a-Lago and Hamburg – and perhaps the most productive one.
If we journey back to the same period last year, the possibility of a "trade war" was regularly dominating media headlines. But the situation is different now. The bilateral relationship has returned to normality after a period of uncertainty fueled by Trump's temperament when speaking in front of domestic audiences and using social media.
The U.S. president is more experienced, avoids diplomatic mistakes, realizes the political significance of China along with its global economic role and is determined to elaborate on a symbiosis model. Even on themes where his position remains adamant – such as the bilateral trade deficit – his style is gradually becoming milder. During a Beijing business dinner he used the expression "I don't blame China" and went further by giving it a credit for acting "for the benefit of its citizens."
Xi agrees with Trump's general approach. "China and the U.S. should be partners, not rivals," he stated in his remarks during the State Dinner. This good climate was practically confirmed in the Chinese capital. The two sides signed over $250 billion dollars of commercial deals and two-way investment agreements. Their content vacillates from making chips and manufacturing smartphones to the soybean and aviation industry.
New opportunities are naturally rising and they can possibly bring "win-win" results. According to the Department of State, Cheniere Energy Inc., owner of the first liquefied natural gas (LNG) export terminal in the U.S., signed a memorandum of understanding with China National Petroleum Corp. for long-term LNG sales.
Future agreements of that type go hand-in-hand with Washington's business interests and Beijing's will to diversify its import sources as well as to use environmentally friendly energy. On the same wavelength, Chinese companies are keen on investing in shale gas development in the U.S. China Energy Investment Corp., for instance, will be involved in relevant projects in West Virginia.
From another perspective, Trump's stay in Beijing coincided with an announcement by the Chinese authorities to ease or lift foreign investment restrictions in its financial markets – including banking, securities, funds and the insurance industry – and lower the tariff on cars.
However, this announcement should not be seen as a concession made to the U.S. by China because of Trump's call for "fair trade." By contrast it should be rather connected to an ongoing trend of the Chinese administration to bring more openness into the economy and continue its reform policy to achieve market liberalization. The recent 19th National Congress of the CPC outlined this priority.
Some American critics argue that Beijing did not specify when it will open up its foreign investments limits and to expect new tensions over the next months. The New York Times, for example, reports on contentious relations "behind the scenes." It is very hard for differences to be bridged though, especially in the short-term. And China has its own complaints about restrictions for investments of Chinese companies in the U.S. Hence, what matters more is to create presuppositions for a relatively good trade collaboration over time, instead of using contradictory positions as an excuse for spats and disagreements.
The two presidents, Trump and Xi, are prepared to expand their common understanding to additional fronts. They agreed to make the most of the existing dialogue mechanisms concentrating on security, the economy, people-to-people exchanges, law enforcement and cyber security.
In addition, they reaffirmed that neither wants to become a safe haven for each other's fugitives, and will instruct competent authorities to actively explore a long-term cooperation mechanism regarding fugitive assets recovery and repatriation of illegal immigrants.They also expressed their support for an Afghan-led and Afghan-owned peace and reconstruction process by playing a constructive role through such schemes as the Quadrilateral Coordination Group. Afghanistan and Pakistan participate in this Group. The war on terror can only unite Beijing and Washington. It is a commonplace observation to mention this in connection to the need for denuclearization in the Korean Peninsula, another theme discussed between the two presidents in the last days.
In a nutshell, China and the U.S. are in the process of acting together despite existing problems and divergences. Responsibility shown by their leaders is the driving force behind this development. And the unquestionable personal chemistry of the two personalities is only helping.
George N. Tzogopoulos is a columnist with China.org.cn. For more information please visit:
http://www.china.org.cn/opinion/GeorgeNTzogopoulos.htm
Opinion articles reflect the views of their authors, not necessarily those of China.org.cn.