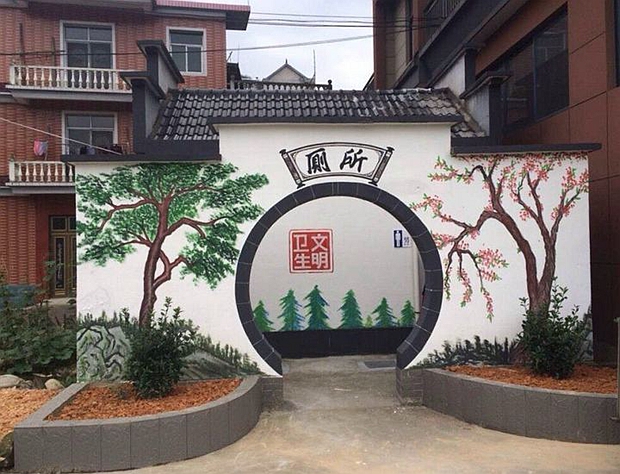 A public toilet in Chun'an County, Hangzhou, Zhejiang Province. [zj.zjol.com.cn]
People who gloat about how democratic India looks beautiful in comparison to socialist China should think twice as the two are mirroring each other more and more. India can take note of China's "toilet revolution" drive to improve public health by stopping the public from defecating outdoors.

On November 27, 2017, Xinhua reported that Chinese President Xi Jinping said public toilets throughout the country – from rural villages to urban areas – should be upgraded to boost tourism infrastructure and improve the quality of life. "Toilet issues are not petty matters but an important aspect of improving infrastructure in urban and rural areas," Xi said.
Since the 18th National Congress of the CPC in 2012, a beautiful environment and hygienic toilets have been a major focus of Xi's administration. In 2015, China's National Tourism Administration (NTA) started a three-year campaign, dubbed the "toilet revolution," which received President Xi's approval in a sign of its importance, to improve the standard of public toilets at tourist sites across the country.
According to the World Tourism Organization, China is among the top four countries in terms of international tourist visits in 2016. After the first two years of the three-year toilet campaign, public toilets in China have been remarkably improved at tourist sites, serving the 4.4 billion domestic and foreign visitors a year.
In rural areas, local governments have started to help farmers in the countryside upgrade their toilets, which cost about 16,000 yuan each, with the government undertaking most of the burden. The toilets are clean and tidy now, equipped with hand washing gel, tissue and hand dryers. Unisex toilets have extra baby seats, safety handrails and speakers. According to the official figures of National Urban and Rural Environmental Sanitation Clean Action Plan, 75 percent of rural homes in China had flush toilets or dry toilets by the end of 2015.
According to Li Jinzao, the head of China's National Tourist Administration, by the end of October this year, China had installed or upgraded 68,000 toilets at tourist destinations, 19.3 percent more than the target number. China plans to install or upgrade 64,000 toilets at tourist destinations from 2018 to 2020 in an effort to remove a major nuisance for travelers and develop domestic tourism.
On the other hand, it is a pity that after 70 years of India's independence, poor public sanitation and related health concerns have remained a major problem in India. According to the World Health Organization (WHO), almost half of India's population – 626 million people – has no access to or do not use toilets. They defecate in open fields, water sources, forests or other open spaces rather than in closed latrines or toilets.
On October 2, 2014, Indian Prime Minister Narendra Modi launched the Clean India Campaign ("Swachh Bharat Mission"), independent India's most ambitious civic program, to rid the country of open defecation and clean up public places by 2019. He even picked up a broom at a New Delhi neighborhood, Valmiki Basti, to launch the flagship program of his rule.
The campaign aims to build a staggering 100 million household toilets and 500,000 community toilets by 2019. Tens of millions of rupees have been committed – US$20 million went into advertising alone in the first six months since October 2014.
Since the inception of Clean India Campaign, Modi passionately spoke of it in his annual Independence Day speeches, televised live from the ramparts of Delhi's Red Fort, and at campaign rallies in election-bound states. But, it's a fact that in spite of the hype and photo-ops and huge investments, Modi's pet mission is heading for failure.
Three years down the line, the Clean India progress report states that India is not much cleaner. Government statistics show that more than US$4 billion have been spent to help install 50 million toilets so far but the real picture is not as rosy as it may seem. Two-thirds of all states in India seem to be faring poorly in implementing the scheme meant to provide a toilet to every Indian household without one. More importantly, the kinds of toilets the government promotes are impure. The pit latrines are very small. Many of them are useless.
According to the Ministry of Human Resource Development data, close to 10 percent of the 1.1 million schools in India do not have toilet facilities for female students. As a consequence, girls leave school on average at an earlier age than their male contemporaries.
It's a shocking fact that access to clean toilets, water and a healthy lifestyle sadly remain a luxury for many across India even today. In order to fulfill the dream of Clean India by 2019, India would be well-advised to draw lessons from China's experience in eliminating open air defecation under "toilet revolution" campaign.
Rabi Sankar Bosu, Secretary of New Horizon Radio Listeners' Club, West Bengal, India
Opinion articles reflect the views of their authors only, not necessarily those of China.org.cn.