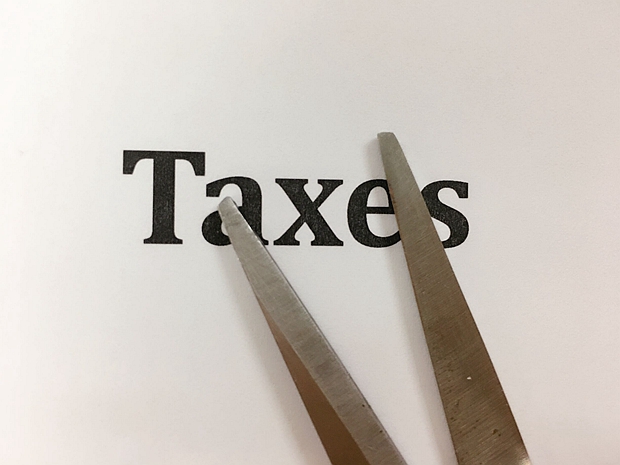 Late last month, legislators in the US capital are feverishly pushing through a tax bill that would dramatically reduce America's global standing. [Photo by Xu Lin / China.org.cn]
Late last month, legislators in the US capital were feverishly pushing through a tax bill that would dramatically reduce America's global standing.

The Republicans' long-standing desire to cut taxes and Trump's last attempt to get major legislation passed by the end of his first year is a short-sighted, self-imposed wound in the making, but one that wealthy contributors to the party salivate at for its short-term benefits to their pocketbooks. Already facing a $500 billion budget deficit and rising in the projected future, the Trump tax bill is projected to add $1.5 trillion to the US national debt over the next decade.
This reckless elite self-enrichment comes at a time when Trump is proposing heavy increases in the military budget. As well, an expensive entitlement bill is coming due, as the largest generation of baby boomers is retiring, and the support ratio of workers-to-consumers is declining. America's social security retirement system and elderly Medicare system face increasing pressures that could wipe funds clean in the coming decades if nothing is done—and neither Trump nor Republicans have proposed to do anything.
Rather than take on the necessary but politically-difficult reforms to the entitlement – which is popular with the older generation but is really driving the debt, Republicans have proposed nickel-and-dime cuts to a hodgepodge of programs for the poor and middle class. They need to save just enough money to get the bill into compliance with parliamentary rules—which means in addition to eliminating tax credits for adoption and other reasons, they also phased out all individual tax cuts after a decade, leaving only corporate tax cuts, which incidentally benefit the president himself and his own businesses.
The upshot is that the United States government will have less money to maintain its military and diplomatic presence, domestic policies, or its already-lackluster infrastructure. Many of these programs have been withering away on the vine in recent years due to politicaldysfunction. Having been unable to arrive at any kind of budget compromise, the Republican Congress and Obama administration was forced to adopt across-the-board budget cuts between 2013 and 2021. Raiding the sources of government funding will only further constrain America's ability to respond to fund needed programs.
This comes at a time when the United States faces major decisions about its place in the world. Shifts are taking place in the weight of regional power. Conflicts in the Middle East could either be wound down or extended yet indefinitely. Either way, America will remain a player on the world stage. The liberal world order built by the United Statesbrought the nation many benefits, but its maintenance doesn't come for free.
Trump campaigned partially on a promise of paring down U.S. commitments, but his actions in office have been scattershot, to put it generously. Still, America at least has a choice now of whether it wants to be interventionist, isolationist, or something in between. If the coffers run dry, there will be no such choice.
Domestically, the demands from years of neglect are weighing on America's bridges, highways, and airports. The American Society of Civil Engineers gives the country a D+ in its 2017 infrastructure report card. One third of national roads are in substandard condition, according to the transportation research group TRIP.
This impacts America's global competitiveness. While ranked third overall in the World Economic Forum rankings, the United Statesranks only twelfth for infrastructure and sixteenth for roads. It impacts ordinary citizens' quality of life. Commuting to work is getting harder in many cities, and public transportation systems are non-existent or nightmarish even in the biggest cities. New York City's subway only arrives on time to its destinations 65 percent of the time, compared to over 99 percent on-time arrivals for Singapore's metro.
The cause of America's dilapidation is long-running short-term thinking. Politicians think in one-and-a-half year chunks, always calculating for re-election. As such, they are reluctant to raise taxes or do anything that will bring long-benefits at a short-term cost. The federal gas tax, which funds highways, hasn't been raised in 24 years, and the highway trust fund has been operating at deficit for the past 17 years.
The top marginal tax rate has fallen from over 70 percent between the 1930's and 1960's to 50 percent in the 80's and then into the 30+ percent range in the 90's. US tax receipts have already fallen from close 20 percent of GDP in 2000 to 15 percent in 2011. The corporate income tax will be cut dramatically by 15 points. It has already been cut so much that its composition of federal revenue went from 30 percent in 1952 to 10 percent today. Effective corporate tax rates are at their lowest levels yet this decade, and corporate profits are at record peaks.
Put simply, there is no reason for America to cut taxes now and even less reason for it to cut taxes on corporations and the highest income earners. But maybe the 71-year-old Donald Trump doesn't want Eric and Donald Jr to have to contribute anything when he hands the family business over to them for real. Eliminating the estate tax, which only applies to inheritances valued at over $5.5 million, would cost $150 billion in and of itself, three times the increase Trump has proposed in military spending.
His kids won't have to pay the bill, but the country will.
Mitchell Blatt is a columnist with China.org.cn. For more information please visit:
http://www.china.org.cn/opinion/MitchellBlatt.htm
Opinion articles reflect the views of their authors, not necessarily those of China.org.cn.