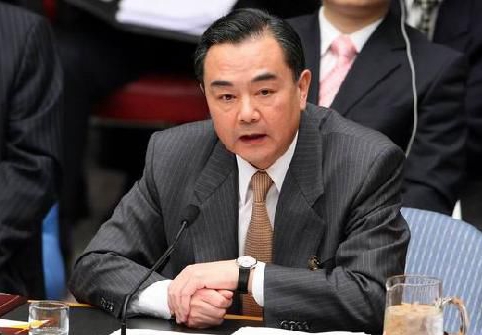 Chinese Foreign Minister Wang Yi [File photo]
Chinese Foreign Minister Wang Yi is in the national capital New Delhi to participate in the 15th Meeting of the Foreign Ministers of Russia, India and China (RIC) on December 11, 2017, hosted by India. It is expected that the trilateral meeting will review global and regional issues of mutual interest as well as discuss trilateral exchanges and activities.
Wang Yi and Russian Foreign Minister Sergey Lavrov are expected to have bilateral meetings along with Indian Minister of External Affairs Sushma Swaraj and call on Prime Minister Narendra Modi and President Ram Nath Kovind. It is believed that under the joint efforts of the three parties, this meeting will achieve expected outcomes.
Since 2002 the RIC trilateral dialogue has functioned as a complement to other frameworks involving Russia, India and China, including the Shanghai Cooperation Organization and BRICS. The RIC is unique because all three countries are world powers with significant interests in the Eurasian and Asia-Pacific strategic spaces.
Though the RIC meetings focuses on exchanging views between the three countries on larger issues, the trilateral is limited by the proximity of the bilateral relationships contained within it. During the tripartite meeting, the areas where the three leaders will spend considerable attention are the issues of international terrorism, Afghanistan and West Asia.
Wang Yi's visit to New Delhi holds special significance as this is the first visit by a top Chinese official to India after General Secretary Xi Jinping got elected for a second five-year term in October. The RIC meeting will be followed by China's State Counselor Yang Jiechi's India visit to attend the 20th round of special representatives' border talks in the third week of December. These indicate both sides are now eager to turn a new page on the post-Donglang episode. It can be said that the year 2017 is going to end on a positive note in the form of RIC tripartite dialogue and Yang Jiechi's India visit.
Wang Yi's visit has come against the backdrop of an Indian unmanned aerial vehicle entering the same Chinese location where a standoff broke off not too long ago between the Chinese and Indian militaries. Sino-Indian ties were severely strained by the standoff which ended with a mutual "disengagement" after 71 days in August. It is hoped that Wang's visit will focus more on the Belt and Road Initiative and ASEAN connectivity.
It has been revealed that the foreign ministers will issue a joint communiqué which should have the following: primary role and responsibility the states have in countering terrorism, stopping the cross country movement of terrorists and mentioning of Pakistan-based terror groups that target India, and early adoption of the UN convention on International Terrorism.
According to Indian media reports, during the meeting with her Chinese counterpart on the sidelines of the RIC trilateral, the Indian foreign minister will exchange notes on "hotspot issues" of bilateral ties with China raising two key problems – China blocking India's membership to the Nuclear Suppliers Group (NSG) and vetoing New Delhi's repeated efforts to proscribe Pakistan-based Jaish-e-Mohammad Chief Masood Azhar. It is hoped that the RIC meeting will bring India and China closer as both countries are victim of terrorism. However, the ways of countering terrorism between the two nations are quite contradictory.
Here, it is worth mentioning that the Brazil-Russia-India-China-South Africa (BRICS) grouping of the five emerging economies had unequivocally named the Pakistan based groups Jaish-e-Mohammad (JeM) and Lashkar-e-Taiba (LeT) as terror organizations in the Xiamen BRICS declaration this year which is a big relief for India.
On the China-proposed Belt and Road Initiative, India's stance is likely to remain the same, which is that even though it is in favor of connectivity, sovereignty remains supreme. India is concerned about the initiative's flagship project; the China-Pakistan Economic Corridor (CPEC) which passes through Pakistan-occupied-Kashmir (PoK), claimed by India.
For India, China remains an important neighbor and the aim should be to build on areas of convergence and commonality. Open regional cooperation is key to stimulating the vitality of South Asian regional integrity. India and China should seek common ground while strengthening cooperation with South Asian countries to promote regional integration.
Ye Hailin, a researcher at the Chinese Academy of Social Sciences has rightly remarked, "While China and India should seek consensus on the latter's pursuit of interference-less industrialization, New Delhi needs to realize that the sort of regional dominance it wants is neither in the spirit of the global trend nor sustainable."
In recent years, India and China are emerging on the global stage and bringing the world greater prosperity. Interaction and cooperation on global issues between the two neighbors is becoming increasingly common but at the same time there is a gap in mutual understanding. Economics and trade is without question the area in which the two countries most closely interact. In the next five years, China will invest $750 billion globally and import $8 trillion of commodities and services. It is hoped that India will be able to get a big chunk of those investment and import orders.
The RIC meeting after the Xiamen BRICS summit is another opportunity for India to interact with China to take forward bilateral ties through confidence building measures (CBM). China sees India as a partner for win-win cooperation and has no intention to threaten India. Prime Minister Narendra Modi and President Xi Jinping had a meeting on September 5 this year to discuss how to enhance the relationship leaving behind the Donglang episode. It is hoped that Wang Yi's visit will take forward the relations between India and China.
Rabi Sankar Bosu, Secretary of New Horizon Radio Listeners' Club, West Bengal, India
Opinion articles reflect the views of their authors only, not necessarily those of China.org.cn.