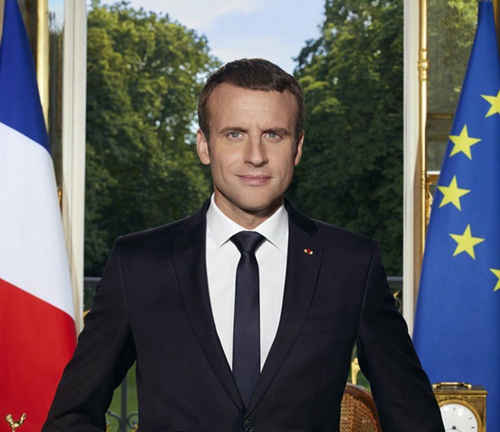 French President Emmanuel Macron [File photo]
Two years ago, then French President Francois Hollande hosted the United Nations Conference of Parties on Climate Change (COP 21), at which the Paris Accord came into effect with the full support of the vast majority of nations forming Planet Earth.
Two years later, his successor, Emmanuel Macron, hosted the One Planet conference, also in Paris, to press for greater global action to implement the Paris Accord.
The conference concluded with increasing pledges by the European Union (EU), the World Bank and multinational companies like Microsoft to contribute more and give greater support to initiatives to combat the increasingly negative climate change effects worldwide.
Even so, the meeting was unable to secure enough pledges to get anywhere nearer to the level of climate financing needed to make the finite difference between words and deeds for countries big and small.
Many world leaders, including British Prime Minister Theresa May and German Chancellor Angela Merkel, were there. Most glaring was the absence of President Donald Trump, who has promised to pull his country out of the Paris Accord.
Macron expressed optimism that Trump – who cannot implement his pullout threat until one day after the next U.S. presidential election in 2020 – will come around by then.
However, the climate change denier Trump has appointed like-minded people to head every related American institution, and together they have wasted no time making it clear that times have changed and science has been forced to take a back seat.
With Big Oil influencing U.S. environmental policy, now, more than ever, America's environmentalists are sorrowfully singing the Doomsday Blues.
Less than one year after Trump took office, the U.S. Environmental Protection Agency (EPA) has delivered on six of the eight demands made by the American Petroleum Institute (API), rolling back or delaying implementation of all the stronger measures introduced during the eight years of the Obama administration relating to environmental and public health protection.
The American deniers, and their counterparts around the world, continue to turn their backs on science and close their eyes to the increasing evidence that it is humans who are responsible for the whole grim saga of climate change, despite Mother Earth, year after year, offers more proof to those still harboring doubts.
While the One Planet conference participants talked, the worst fires in the history of California – the largest American state – blazed in six separate infernos that destroyed more land than the entire state of New York or the island of Singapore, destroying almost 1,000 homes and displacing nearly 250,000 people.
At the same time – and also during the Paris meeting – parts of Europe experienced the worst blizzards in years, unusual snowfall forcing closure of British airports (including the main London facility, Heathrow), as well as highways, businesses and schools, like never before.
Just a couple months ago, two major earthquakes and three successive hurricanes hit Mexico and the Caribbean island chain, causing unforeseen deaths and damage in small countries already affected by rising tides.
Scientists in the U.S. and across the world are warning that such negative climate change effects must now be seen as the "New Normal." But Big Oil and Dirty Coal are again set to hasten and deepen the damaging effects as the deniers keep shutting their eyes to what everyone else clearly sees and feels.
U.S. scientists have just reported that Arctic ice is melting at the fastest rate in the last 1,500 years, and is partly responsible for the unusual weather behind both the California fires and the sharper cold snap hitting the American south and east.
They have confirmed that global warming made Hurricane Harvey, hitting Texas last August, 15 percent more intense and the costliest of all, more than the previous superstorms Sandy and Katrina combined.
The One Planet conference did feature some interesting sidelines, including the French president's claim that its overall objective was to "Make Our Planet Great Again" and his offer of jobs in Paris to 13 American Climate Change scientists – both seen as clearly intended jabs at his American counterpart.
However, as some of the defenders of smaller nations most vulnerable to climate change pointed out after the Paris meeting, as long as dirty oil, coal and gas continue to get priority over cleaner nuclear, wind and solar power, global warming will continue to accelerate.
And the "New Normal" will continue to feature across the USA – and everywhere else – for as long as people in poor countries most vulnerable to climate change continue to be short-changed by rich countries.
Earl Bousquet is a contributor to china.org.cn, editor-at-large of The Diplomatic Courier and author of an online regional newspaper column entitled Chronicles of a Chronic Caribbean Chronicler.
Opinion articles reflect the views of their authors, not necessarily those of China.org.cn.