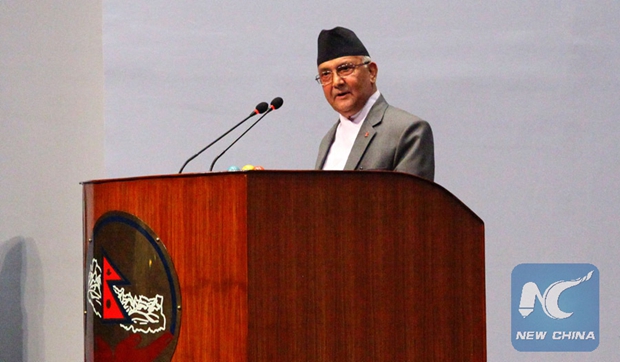 K.P. Sharma Oli [Xinhua]
An esoteric discourse has been created since the formation of the "Left Alliance" in Nepal, supposedly buoyed by strong backing from China.
Both Indian and Western media outlets have left no stone unturned to establish it as a fact, projecting the landslide win of the Alliance in recent provincial and federal elections in Nepal as a "triumph of the north."
The "Prime Minister-in-waiting" K.P. Sharma Oli's recent visit to the strategically important Nepal-China border region at Rasuwagadhi has fueled such assumptions.
Many think he chose this location to send a very strong message to New Delhi about his plans for a close relationship with China.
The Rasuwagadhi visit provoked screams of horror in the Indian media. No sooner had the news emerged in Nepal than the Hindustan Times carried a headline describing it as "a strong message to New Delhi" and "an indication that the incoming government to be headed by Oli is likely to tilt towards Beijing and seek support for larger connectivity projects including roads and railways."
Indian editorials, long disapproving of the Oli-led CPN-UML and its stance towards so called "Madhesh issue" (plains areas close to India), seem to become quite defensive and subdued in the aftermath of the recent elections.
There is strong expectation of Indian high handedness towards Nepal in the days to come, with the Left Alliance gaining a majority in the assemblies of six out of the seven provinces, along with a large federal parliament majority.
Oli's visit to Rasuwagadhi has also become a matter of discussion inside the country, because the next government's approach to a so-called "India-China balancing foreign policy" is yet to be clarified.
According to Bishnu Sapkota, a prominent local analyst of political affairs, Oli's visit to Rasuwagadhi was symbolic, especially expressing gratitude that a pro-China stance had been helpful for the alliance to win the elections.
He wrote: "Oli's visit to Rasuwagadhi while election results of proportion representation system were still coming was not just coincidental. It was a calculated symbolic statement about the foreign policy departure he is going to make."
Oli's visit was the highest official visit made to Rasuwagadhi since China declared it as an international border transit point. While observing the border area, the Nepalese leader reiterated his promise to build the Rasuwagadhi-Kathmandu-Lumbini railway, which India sees as a threat to its traditional position providing Nepal's only access to the sea.
Oli is known for using strong rhetoric both in internal and external affairs. When he became the prime minister during an Indian trade blockade in 2015, he ordered petroleum to be imported from the Chinese side for the first time in Nepal's history and signed a historical Nepal-China Commerce and Transit Trade agreement during his China visit at that time.
The agreement allows Nepal to use Chinese ports, breaking their past sole dependency on India. After signing the deal, Oli declared it the end of the era of Indian dominance in Nepal.
An expert of diplomacy and international relations, Hiranyalal Shrestha thinks Oli's visit to Rasuwagadhi was well planned because it is the place to which China is now giving considerable importance.
"Rasuwagadhi is the border point through which China can enjoy better access to[South] Asia," he said.
Although the left alliance pledged a "balanced foreign policy" in its election manifesto, it seems Oli wants New Delhi to feel that the balance his government plans means adding some additional weight to the other side.
A handful of Nepal-based experts on Indian policies have become more pragmatic in their analyses after the recent election. Now, their interpretation is that India has "lost" Nepal to China because of New Delhi's own miscalculations and misdealing.
Prior to Oli's visit to Rasuwagadhi, the Indian analyst on Nepal affairs Professor S.D. Muni had concluded that, "It would be a mistake to read the emergence of the Left Alliance as Nepal's preference for communism.
"[Instead]Nepalese voters have clearly expressed their new nationalism which has three key components – the search for political stability and peace, the demand for fast and comprehensive development and assertion against India."
Professor Muni concluded that, though the victory of the Left Alliance is seen as bad news in New Delhi, the fact is that India has unwittingly contributed to the rise of both the Left Alliance and the new Nepalese nationalism with anti-India undertones.
Some people in Nepal feel that the recent election has also paved the way for an early state visit from its northern neighbor.
A political analyst close to the Nepali Congress, Puranjan Acharya, boldly asserted that Chinese President Xi Jinping's "visit to Nepal is likely very soon, further adding to the jitters of Nepali Congress cadres after losing the political grip."
Oli is obviously keen to establish himself as a "trusted friend" of Beijing. His recent visit to Rasuwagadhi is his latest message to New Delhi that he is not going to accept any further Indian high-handedness in Nepal in term of politics, trade and supply.
Now, we can only wait to see what will happen.
Saroj Gautam writes on international relations and diplomacy from Kathmandu.
Opinion articles reflect the views of their authors only, not necessarily those of China.org.cn.